* UNICEF reports a child survival milestone, deaths fall below 10 million for the first time

* Various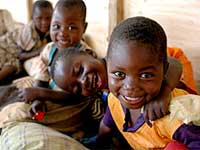 The world has reached an important milestone on child survival. For the first time ever, child deaths before the age of five have fallen below ten million.

New figures… released by UNICEF… show solid progress on child survival. Worldwide, child mortality has now reached a record low, falling to 9.7 million per year… that's down from almost 13 million in 1990.

This achievement will add to the momentum to push toward the Millennium Development Goals, adopted by world leaders in two-thousand. Reaching the goal of reducing child mortality by two-thirds will save an additional five-point-four million children by two-thousand-fifteen.

SOUNDBITE, ANN M. VENEMAN, UNICEF Executive Director: "Although it's good news because we've never seen child mortality figures that low, it's also very difficult news because it reminds us that 10 million children are still dying every year and that's just unacceptable. But it's important that we measure progress, that we know how far we've come."

Much of the progress is the result of widespread adoption of basic health interventions such as early and exclusive breast feeding, measles immunization, Vitamin A supplementation and the use of insecticide-treated bed nets to prevent malaria.

SOUNDBITE ANN M. VENEMAN, UNICEF Executive Director: "What we believe, what UNICEF has been working on with partners in more recent years is a community-based approach Proper care and nutrition

With continued support for global health, increased funding, and expanding partnerships, progress is possible. The lives of our youngest and most vulnerable children are at stake.