* UNICEF: FIFA-UNICEF campaign under way to break down gender barriers in schools
* 08 Sep 2007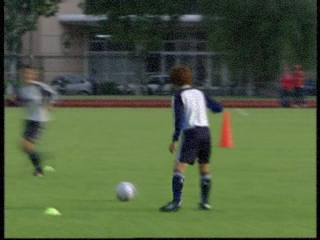 For the players involved, taking part in this year's World Cup is recognition not just of their talent, but of the long years of hard work they've put in on the training field. For some, though, being in China for this year's competition has extra meaning: players like Aya Miyama – a gifted midfielder with the Japan national team -- remember how hard it was for her, as a girl, to take up football in the first place.

SOUNDBITE (Japanese): Aya Miyama, Japan Women's National Football Team: "When I was a child, I wanted to play football with boys but I hated always being beaten by them. So I trained harder to and found out that, if I worked as hard as possible, I could play with the boys even though I was a girl."

It's to promote equal rights for girls in sport and in other walks of life that UNICEF has teamed up with the world football organization FIFA to launch the Goals for Girls campaign. The campaign makes the point that, all too often, girls don't only miss out in sporting opportunities, but in their education – a fact which means that society is – far too often -- denied women's full contribution to its development.

SOUNDBITE (English): Richard Bridle, UNICEF Deputy Regional Director, East Asia and the Pacific Region:
"The question is rather – when is the injustice to girls going to end. Because as long as that takes, that's how long the campaign will go on. It's not just something for UNICEF to do, this is something for everybody who is concerned about the rights of girls, everyone can contribute, everyone should contribute to."

In remoter regions of western China, UNICEF is striving to put the principles of inclusion and gender-sensitivity into practice, working alongside the government to establish what are known as Child Friendly Schools. Roughly one thousand such schools have been established so far, offering both boys and girls a quality education in a safe environment.

Teamwork and participation are key elements in the classroom just as they are in the playground, no matter what the sport involved. This tug of war uses a rope UNICEF provides to Child Friendly Schools as part of a recreation kit – helping create a level playing field in which girls are as likely as boys to end up as winners.

This is Simon Ingram in Shanghai reporting for UNICEF. Advance humanity.