* UNICEF working to rebuild lives in flood-affected Bihar

* 13 Aug 2007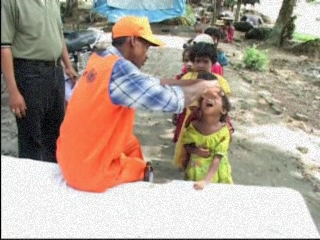 Devastating floods swept through India's province of Bihar in July and August of this year … and displaced residents are still struggling to get back on their feet. Swollen rivers continue to affect many districts, hampering efforts to assist some 10,000 submerged villages and house the displaced villagers.

Remote towns like this one, called Sarainyan, were marooned for days and sometimes even weeks.

Relief workers sponsored by UNICEF faced incredible challenges in bringing needed supplies to the area.

Affected villagers faced a food shortage, the threat of contaminated water, and sanitation problems… many have developed health conditions as a result. Some small children have difficulty breathing and many are experiencing skin problems and diarrhoea.

Ruined crops mean that many families living hand-to-mouth have lost their only source of income.

The terror of the disaster is still a strong memory for many. For fifteen days, twelve year old Sangita Kumari and her friends and family lived on a rooftop in Sarainyan village surrounded by floodwater. They had nothing to eat and nowhere to go.

SOUNDBITE, Sangita Kumar, 12 years old: "I felt very afraid during the night. It was dark all around and I was scared that if I fell down off the roof I'd get bitten by a snake. I also thought that if I fell in the water I'd get washed away."

When the floods came, Nilam Devi fled her home on a boat with her mother-in-law and children and came to this embankment. The water came, and so did her baby boy, which she gave birth to here, during the dangerous flooding.

Lakhi Devi's son was born ten days into the floods, while the village was completely marooned and there was no way in or out of the village.

SOUNDBITE, Sanjha Devi, Mother-in-Law: "She has become weak because she is not eating properly. When a mother delivers, she should eat properly. Only then will she get strength. We don't have much to eat."

As part of a return to normalcy, children are being taught in makeshift elementary schools, like this one in a temporary camp.

It's also a chance to make sure each child has Vitamin A supplementation to prevent disease. UNICEF is also supporting a mass measles vaccination campaign.

The priority for UNICEF is to reach the most vulnerable children first, providing medical care, but also providing a way back to their normal lives through education and to instil hope for the future. Now that the rains have stopped and the water is receding, the process of rebuilding lives has begun.