* UNICEF: Supplies reach flood victims in Nepal, but need for aid still remains
* Shoot Date: N/A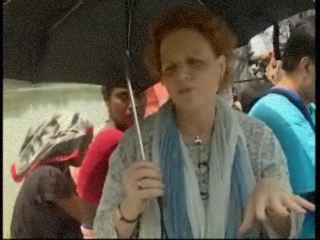 It's so weird traveling across the Babai River, which was really badly flooded during this monsoon. You can see up on the banks here, it went right up and over the banks.
We spoke to a couple from the Tharu community and the river basically went through their house. They were trying to save their granary, but the river just came through, so they've lost all their food stocks. They lost their pigs, they lost their goats, and they had to stay on some higher, um they said they put some posts into the ground and got up on those posts. They were stuck there for three hours, then they were able to get out with their family and stayed in a school for some days. But they basically lost all their food stocks.
They are day labourers and the land that they were working on for a landlord has been completely sand casted by the flood so there's no paddy they can now work on. So, they regrettably are going to be reliant on food supplies for some months, provided by the World Food Program and distributed through the Red Cross.
We are going across to some of the very badly affected flood communities to distribute non-food items. UNICEF has provided all of the water purification tablets and solutions during this flood, which have been ably distributed through the Health Ministry and also through the Red Cross. We're also going to be distributing hygiene kits, which UNICEF puts together for families like this who have lost everything. So just the basics like a comb, a mirror, soap, washing soap, sanitary pads for women, some cloth for nappies. And so we'll be giving those out to some of these badly flood affected people today together with tarpaulins, blankets, saris – which have been purchased with money that the UNICEF Nepal Staff Association raised. They all, everyone gave a day's salary and we've been able to purchase children's clothes and saris which we are distributing through all the flood affected areas through the Red Cross again.
One of the bid needs too, particularly when you're purifying this very badly contaminated water is a need for buckets so that's something we're also going to be giving out today along with cooking pots because when the rivers have come through people have just lost all their possessions. Their, their, most of these people are in dire poverty anyway, they're living in the most vulnerable areas close to the river, so they have little to start with and then when a flood like this comes through, they're really back to nothing. So, just some of these key non-food items will hopefully see them a little way through until hopefully there's more work in some of the fields and some day lab