* UNICEF: Food crisis ravages India's poorest children
* 시간: 02 min 57 secs
* 26 May 2008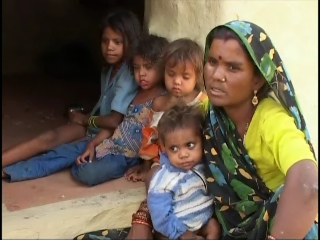 Anxious Indian mothers take their turn to weigh their babies, withered and weak, barely big enough to tip the scales.
This is the leanest of seasons, and all 25 children here at this Nutrition Rehabilitation Center in Shivpuri are
dangerously malnourished by any measure. There are 100 centers like this supported by UNICEF in the state of
Madhya Pradesh. At the best of times 60 percent of all under-fives are malnourished, mostly from vulnerable castes
and tribes. Now with the latest food crisis many more are being admitted:
SOT Mr.Dinesh Khanna Nutrition worker in Kalyani Nutrition Rehabilitation Center of Shivpuri district (English)
"Mothers are not able to feed their children; the capacity of purchasing of that mother is very less; they're very poor."
Vandana Agarwal UNICEF Nutrition specialist in Madhya Pradesh State of India (English)
Right now we're doing the group monitoring drive in this season and surprisingly the malnutrition rate is so high, in
some villages the prevalence of malnutrition is 60 %, 70% and up to 80%; imagine a village with 80% of the children
under nourished.
Monsoon rains have failed for the past five years, pushing people to the edge; food is a battle ground between man
and beast, every scrap counts. For Sunita's family wheat stocks are running out. With the price of other staples like
rice almost doubled in six months – she is left to make stark choices, her children are drained and hungry.
SOT Sunita Adivasi (English with Hindi translation)
"Only my husband is able to work and we are seven in the family so we can't feed and clothe our children properly.
We are really very worried about things."
Sunita's son is two years old but cannot walk; he was once at death's door; At the community center he and his
sisters relish their mid-day meal. It's all they'll get and they're not alone – this year 72 % of children in the village of
Guraval are malnourished; last year 60% were.
Yet even in a crisis old traditions and beliefs die hard. This family had a long walk in the heat and dust to the temple
to give thanks for their baby boy. They live on just R1500 or $40 a month but they had been saving for a full year to
feed the gods.
This current food crisis in India, has opened the lid on what lies behind child malnutrition and that will take more than
the cost of food to change.