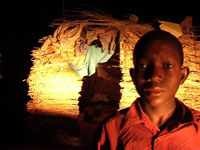 * UNICEF: A new chance for homeless youth and juvenile offenders in Niger
* 시간: 02 min 37 secs
* 01 Apr 2008



Souley is 16-years-old and living on the streets of Niger's capital Niamey.
Of a night he shares a make-shift hut with other street kids.
In this desperately poor neighborhood there's no running water or electricity.
By the light of a nearby car, Souley explains that his parents are farmers but the city offers the chance a better life.
Most days Souley comes to a center for vulnerable children and adolescents in conflict with the law.
Known as SEJUP, these centers were set up by the government's national juvenile justice program, with UNICEF support, in Niger.

Souley can not read and write but enjoys working with tools and producing handicrafts from bone and leather.
SEJUP centers offer homeless youth the opportunity to learn basic vocational and literacy skills.
More than five-thousand children and adolescents have benefited from the program in the past two years.
Working alongside volunteer mentors, children like Souley have a positive role model in their life.
SOUNDBITE: (Djerma) SOULEY (Narrator voice over)"Souley says he likes to learn new skills and coming to the SEJUP centre is better than hanging around on the street."

For minors who are incarcerated UNICEF is helping Niger's prison authorities to create separate children's wards to protect them from abuse from adult inmates and improve conditions.
UNICEF is also working closely with Niger's judicial system to develop juvenile courts and to offer community service as an alternative to serving prison sentences.

SOUNDBITE: Jean Lieby, Head of Child Protection Unit, UNICEF Niger "Incarceration stigmatises a child. And if a child has access to an alternative justice system, to reintegration activities, to be fostered, to be in an apprenticeship instead of going to prison, he has better chances of being integrated and have a normal life afterwards."

Strengthening Niger's legislation is helping children to be better served by the country's judicial system.
By working with Niger's government, legal bodies and law enforcement agencies, UNICEF is helping protect the rights of children whether they are offenders, witnesses or victims. In Niamey this is Guy Degen reporting for UNICEF Television - unite for children.