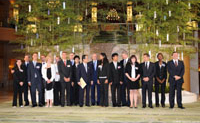 * UNICEF: J8 delegates meet their adult counterparts at the G8 summit with recommendations for children's rights
* 시간 : 02 min 50 secs
* 07 Jul 2008


The climax of a week-long Summit, a face-to-face meeting between a delegation from the J8, and their G8 counterparts.

The chance for these children's representatives, carefully selected from countries around the world, to present their recommendations and an action plan to help tackle global problems facing the world's young.

Revealed at a news conference in the city which has hosted this Junior 8 Summit, the Chitose Declaration. The delegates have put forward concrete proposals.

First on climate change, ways of sharing technology and pursuing energy alternatives.

Harry Brooks - UK
"That it is the youth who are going to suffer the consequences of today's actions. It's our future and it's our planet."

Measures for tackling poverty and encouraging development, with a focus on Africa…

Sergey Kononenko - Russia
"The young people from developed and developing countries can share their own experience. And, as a result, the global leaders will gain young peoples' perspectives on the most urgent issues."

And calls for more action to fight infectious diseases…

Je-Meila Maloney - Barbados
"We believe as the J8's community that when we have touched one life, we have touched a generation."

Very different issues, but all with children as the focus.

Mathieu Lepage – France
"We wanted to include children in the declaration and to make the leaders include children."

The measures were reached after days locked in special workshop sessions.

What's more, they have agreed on a follow-up plan to make sure the declaration is acted upon.

Yohei Oka - Japan
"We think it's important that the G8 leaders follow up on the declaration and they actually show us what they've done and what improvements they've made."

After the meeting with their adult counterparts, the J8 delegation returned to the Summit HQ, to tell the tale of how they told the leaders of the world, what the children of the world wanted.

Manogna Manne - USA
"I think that they'll take our ideas under consideration, because many of them had already read the declaration."

Shiro Kuriwaki - Japan
"For my country, our Prime Minister was really intent on meeting more of the kids from Japan."