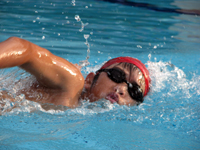 * UNICEF: Malaysian student goes the extra mile for peers in Myanmar
* 시간: 02 min 14 secs
* 28 Jun 2008
Thirteen-year-old Tristan Lim needs little excuse to go that extra mile … or swim just one more lap.

But last month he did just that for a grave cause … raising money for the survivors of Myanmar's Cyclone Nargis.

"I wanted to do this mainly because I have been to Myanmar before and I have seen how nice the people were and I felt like very welcome there. I also feel sorry for them because they lost what they had. I have so many things that I need here. I got my parents and a good education but they lost everything from the cyclone."

One hundred and 66 donors pledged to support Tristan …
His three kilometres in the water and eight more on land … earned 25,000 Malaysian ringgit, which Tristan turned over directly to UNICEF.

"Young people have an important role in fact I would say a very important role to play in this kind of situation where a country or communities hit by a disaster whether man made or even natural and in the case of the cyclone in Myanmar, we have seen the role or the initiative taken by young Tristan and this is very important."

Tristan's contribution supplements the 530,000 ringgits (or $160,000 ) already raised by the Myanmar Children's Cyclone Appeal. And will help UNICEF provide teaching supplies to young people in Myanmar who have lost their schools.

Just as important, his actions are a lasting example for all his peers:

I feel that they should definitely do what I have done today. They don't have to be extraordinary or anything but they just have to put effort in it and achieve what they want."