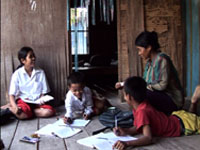 * UNICEF supports Cambodian children living with HIV/AIDS
* 시간: 02 min 26 secs
* 21 Jan 2008
Twelve-year-old Vanna lives rural Cambodia with his brother and sister.

His aunt takes care of the family because both of the children's parents died from HIV/AIDS.
SOT Koy Doeun (Khmer/English translation)

"I face a lot of challenges to raise the children. I grow rice, vegetables and raise a pig and chickens to make enough money to support them."

Soon after his mother's death, Vanna tested positive. Once a month Koy Douen takes him to the UNICEF-supported Svay Rieng Provincial Referral hospital.

Vanna has a checkup and gets a chance to make friends other HIV infected children as part of the UNICEF-supported Friends Helping Friends programme.

SOT Haritiana Rakotomanonjy, Chief of HIV and AIDS Section, UNICEF Cambodia (English)
"The care is not just about drugs. There's a whole support system that needs to be put in place and that is what M&M, the friends helping friends programme is about."

Cambodia is a poor country where health and social welfare services are limited, but Vanna is the new face of HIV/AIDS --- happy, healthy, and focused on normal twelve-year-old concerns, like what's for lunch.

UNICEF and its partners have played a crucial role in this transformation … refurbishing hospitals and pediatric wards, providing technical guidance and training.

SOT Wing-Sie Cheng, UNICEF Regional HIV/AIDS Advisor (English)
"Scaling up paediatric HIV treatment for instance, in still what is largely a lot prevalence country has helped regenerate and revive paediatric care in general and that in itself is a very laudable example of how the investment in children and HIV can lead to a much larger set of benefits for children in general."

It is this comprehensive national response that has made Cambodia one of the first countries to stop the spread of HIV/AIDS. And although tragedy has marked Vanna's life, because of UNICEF and its partners, he can look forward to a healthy future.