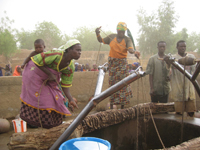 * UNICEF: New data shows improved water and sanitation crucial for Niger
* 시간: 02 min 21 secs
* 03 Apr 2008
Essential for drinking, cooking and hygiene but collecting it is an arduous and time consuming daily chore for women such as Kouloua in rural Niger. Each morning she rises early to draw water from the well in her village in the southern Maradi region. It's hard work that cuts into the time Kouloua needs to look after her five children and takes a harsh toll on her body. But while she and her family have access to a shallow traditional well, the water is not clean and is often shared with livestock. SOUNDBITE (HAUSA): KOULOUA, Mother "My daughter has been ill with diarrhea four days. I took her to the health clinic for treatment but it doesn't stop and she keeps losing weight." Unsafe water combined with poor sanitation and hygiene are some of the underlying causes of Niger's high child mortality rate. Water borne diseases account for nearly 20-per-cent of under five child deaths in Niger. Less than 45 per-cent of the population have access to clean water and less than 10 per cent to adequate sanitation. SOUNDBITE (FRENCH): Moustapha Niang, Water, Hygiene and Sanitation Specialist, UNICEF Niger "We have outbreaks of cholera every year and also problems with trachoma, dysentery and guinea worm. All of these diseases are linked to water so access to clean water and appropriate sanitation is a major challenge in Niger."

In the village of Moule Safoua, UNICEF has helped the development of a modern water system that is now maintained by the community. Clean water is now easily accessible and is helping to improve the lives of women and children. SOUNDBITE: (HAUSA) SAOUDE ZACONBOU, (20) Mother "My life has changed a lot. I spend less time fetching water which means I can rest and my hands are less damaged because I don't have to use a rope to draw water." In a country where one in five children may not reach the age of five, UNICEF is supporting activities in Niger
that will prevent unnecessary deaths. This is Guy Degen in Maradi, Niger reporting for UNICEF Television -Unite for Children.