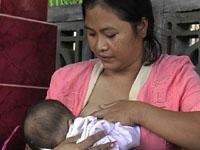 * UNICEF : Educating Indonesian mothers and midwives during World Breastfeeding Week
* 시간: 01 min 21 secs
* 10 Jul 2008
Lombok - one of the thousands of islands that make up the Indonesian archipelago.

And its here that mothers and midwives are fighting a trend that leads to the death of an estimated 50 thousand young children in Indonesia each year.

The culprit? Poor infant feeding.

And all it takes to save these young lives is the most basic of mothering skills.. …breastfeeding.

At praya hospital it's a rare case of malnutrition. Arya's mother says she didn't breastfeed properly and her other son died at about the same age.

Midwife Imansuri Hartini says many mothers wean too early or think that bottle feeding is best. She says formula companies also offer midwives cash incentives to promote their products to mothers.

At support groups like this one mothers get all the facts they need to give their babies the best start in life.

Here they are told only to give breast milk to their babies until they are six months old. No formula, no solid food …nothing but mothers' milk.

The midwife says even when you start to wean the child moms should continue breastfeeding up to the age of two.

This successful program is collaboration between the local health department and UNICEF as part of a global effort to improve breastfeeding practices.

Soundbite (English): Dr. Anne Vincent, UNICEF health & nutrition chief:
"Breastfeeding is also a life saving intervention it can be considered as the first vaccine of life "

Village volunteer Nur Hasamin has set up regular get togethers with other mothers so she can pass along the information she learned at the health clinic.

The benefits of mothers' milk can never begin too soon. Less than an hour after helamawati gave birth to her first son he searches out his mothers' breast and is soon enjoying one of the miracles of life.

This is Suzanna Dayne of UNICEF television. Unite for children.