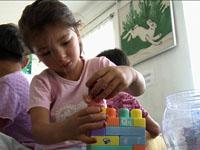 * UNICEF: Sheltering Tajik children from disaster with early childhood care
* 시간: 02 min 54 secs
* 촬영도시: Isfara
* 촬영국가: Tajikistan
* 촬영일자: 04 Jul 2008

Last winter began with celebration for Nargis Juraeva, with the birth of her twin sons Hasan and Hussein. But joy soon turned to anxiety, when temperatures plummeted, and the water and heating failed, pitting the family in a struggle to stay healthy. Tajikistan was suffering its harshest winter in three decades, with hundreds of thousands of people facing a lack of food and supplies.

Nargis Juraeva, Mother: "We faced a lot of problems due to water shortages, since the freezing cold destroyed water pumps. And the central heating system didn't work. We tried to keep the room warm with other heating devices. My main fear was not to let the babies get cold."

With support from her husband, Juraeva, her twin sons and her two daughters endured the cold. And the twin boys seem to be developing properly. The family is now preparing for the next winter, stocking up on water containers and planning on buying a generator.

But while families are finding ways to address their physical needs, health experts worry that many young children may be receiving too little care for psychological and emotional problems.

Dr. Gulrabo Boboeva, Deputy Chief Doctor, Central Isfara Hospital: "Tajikistan is very prone to natural disasters, whether it may be an earthquake, flood, harsh winter etc. These and other types of emergencies affect children, and if they are not paid attention to at an early age they may harm and negatively impact child development."

This situation is compounded in Tajikistan, where even in normal times, there are very few early childhood development programs to stimulate learning and emotional growth.

UNICEF is helping train an emergency response team, made up of health workers, preschool teachers, mothers and other volunteers to provide psychological care and educational activities for young children in the wake of a disaster.

It is also working with the government to integrate early childhood activities into national health programs.
For Nargis Juraeva, early childcare starts with the family itself.

Nargis Juraeva, Mother: "I think for both physical and psychological development of a child, the most important thing is education and relations to family. It is my strong belief that family has a significant role in a child's life."

In Isfara, Tajikistan, this is Steve Nettleton reporting for UNICEF Television. Unite for children.