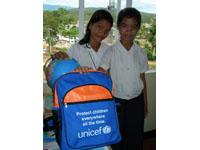 * UNICEF: Disaster preparedness for schools in the Philippines
* 시간: 02 min 26 secs
* 촬영도시: Albay Province
* 촬영국가: Philippines
* 촬영일자: 08 Jul 2008

An evacuation drill for the children of Banadero elementary school.

Orderly columns of youngsters, moving out to designated assembly points – an essential exercise when living in the shadow of the Mayon volcano.

SOUNDBITE Paulina Vibal, School Principal: "Due to these drills given to us, we are not anymore afraid because we already know what to do in times of calamities,"

A reassurance for children like Joshua Loria. Now 11, he's already experienced two evacuations in his lifetime. SOUNDBITE: Joshua Loria "There were lots of people everywhere and we felt worried. We did not know whether our home would still be there when we got back."

Living a few minutes walk from the school, thankfully his home has escaped damage. But everyone knows the risks of living in one of the most disaster prone areas of the Philippines.

A volcano on one side – on the other, the Pacific Ocean which spawns devastating typhoons. Ruined buildings attest to the destructive forces of nature down the years – most recently 2006 when a typhoon brought tones of volcanic debris, crashing down the mountainside.

Across the country, hundreds of schools were destroyed and damaged, effecting half a million children, and UNICEF has been supporting efforts to restore the education system.

New day care centres have been built.
And new school buildings have been constructed to withstand typhoon-force winds.

SOUNDBITE: Elmer Texon – UNICEF Consultant as he opens steel door. "So this is steel, steel door. The frames are also made of steel. The windows are steel frames also."

Vitally important in a country that on average receives 14 typhoons a year, and where schools serve the whole community as evacuation centers in times of emergency.

SOUNDBITE: Adelia Vibar – Principal, San Jose Elementary School "Floods, typhoons, Mayon eruption. This is an evacuation center."
While everyone hopes there won't be one, preparing for another disaster is a fact of life.