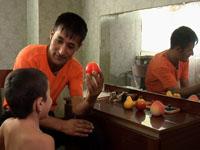 * UNICEF: A pilot learning project for disabled children in Tajikistan
* 시간: 02 min 40 secs
* 촬영국가: Dushanabe
* 촬영도시: Tajikistan
* 촬영일자: 08 Jul 2008

Three-year-old Aziza is learning to communicate with the outside world.

Aziza is autistic. When she first arrived at this special preschool in Dushanbe, she couldn't say a word.

Samad Shoev, Speech therapist: "The first time Aziza came to this kindergarten, she was out of contact. The first week she just ignored my questions; she would just leave without any sign of interest in talking to me. So I changed my approach and got a doll she likes. We started playing together. After a short time she began to respond to me."

Shoev and Aziza are partners in a pilot learning project in Tajikistan. Here at Kindergarten Number 151, children with disabilities prepare to integrate with able-bodied students in the regular school system.

The school has helped more than 200 children with rehabilitation, including speech therapy and motor skills development.

Six-year-old Stasik has been coming here for three years. He is also autistic. At first, he was terrified to be separated from his mother. Now he has learned to speak and moves freely around on his own, playing with classmates.

The center also works with parents, offering consultation and training. It is part of a broader, community-based initiative to develop alternatives to institutionalizing children, an effort to both boost learning and protect them from abuse. It is a strategy based on inclusion, instead of isolation.

Samad Shoev, Speech therapist: "It is true that many people try to avoid contacting children who are mentally disabled. But the practice in our kindergarten shows that integration of children with disabilities with other children benefits both society and the children themselves. And it creates an environment where the children can be free from thinking about their problems and disabilities."

And helps break down barriers of misunderstanding and prejudice, one vowel at a time.
In Dushanbe, Tajikistan, this is Steve Nettleton reporting for UNICEF television. Unite for children.