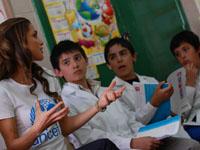 * UNICEF's Eminent Advocate for Children, Queen Rania of Jordan visits Argentina.
* 시간: 01 min 56 secs
* 촬영도시: Buenos Aires
* 촬영국가: Argentina
* 촬영일자: 22 Oct 2008

Children at a UNICEF-supported school in Buenos Aires received a royal visitor this week, when Her Majesty Queen Rania Al-Abdullah of Jordan dropped by for a tour.

She surprised the children with a lesson on greetings in Arabic.

In her role as UNICEF´s Eminent Advocate for Children, Queen Rania learned about a new program that allows teachers, administrators and families to self-evaluate educational practices." The job of reforming education is one that never ends – it's one that has to keep going, and it is one that involves all partners, teachers, students, families, communities, the government, even the private sector has to be involved in the process," Queen Rania said.

Queen Rania's next stop was a visit to the Boca Juniors football club, a UNICEF partner. She participated in a workshop about peaceful coexistence and education. Later she met with two of the club's top players. UNICEF education specialist Elena Duro says "For UNICEF, Her Majesty's visit is very important to focus attention on the importance of getting a quality education in Latin America, and to promote a public education that is free and obligatory for everyone, starting from kindergarten, through primary and high school."

Queen Rania is known for her strong education, so it's fitting that she's helping children around the world improve their own schooling.

This is Thomas Nybo reporting for UNICEF Television in Buenos Aires. Unite for Children.