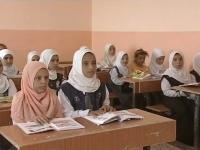 * UNICEF and Nokia restore schools in Iraq
* 시간: 02 min 20 secs
* 촬영도시: Wasit Governate, southern Iraq
* 촬영국가: Iraq
* 촬영일자: 16 Oct 2008

It's the first day of school at Ash Shrook primary in southern Iraq and students are enjoying the novelty of bright, new facilities that are clean and well maintained.

This is one of eight schools that has been fully rehabilitated by UNICEF with funds donated by Nokia.

Students and teachers are delighted with their refurbished building which has toilets, running water and a place to wash.

SOT Ziad Mohammed
Grade 4
"Our school was lacking electrical fittings, bathrooms and everything. Now we have fans, water tanks and our school is much better."

Teachers say the new environment will boost the children's academic performances and their state of mind.

SOT History teacher, Nawal Ali
I am certain that this renovation will reflect positively on children's psychological condition and therefore their school performance, attendance and increase in enrollment. In the past the school was rundown by years of negligence and lacking for the basic amenities, now we can notice the big change and relief among children."

Students and teachers at the Al Basra primary school in Wasit are also enjoying classrooms that are in stark contrast to their old school.

These children are benefiting from a million dollar initiative to rebuild schools in the poorest areas of Iraq.

After years of conflict and neglect many schools are in a critical condition. UNICEF and Nokia are striving to make
sure that children are provided a safe space to receive a quality education.