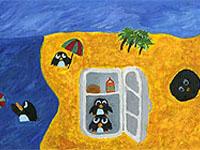 * UNICEF: Paint for the Planet' engages young artists in the fight against climate change
* 시간: 02 min 02 secs
* 촬영도시: United Nations Headquarters, New York
* 촬영국가: United States
* 촬영일자: 23 Oct 2008

Fifteen year old Andrew Bartolo from Malta, has a talent for painting.

His latest work, depicts penguins fleeing to unfamiliar lands due to the effects of climate change. It earned him a trip to United Nations headquarters.

Andrew is one of six children who were selected as artist-ambassadors and flown to New York to take part in the opening of the 'Paint for the Planet' exhibition.

The children's art exhibit aims to promote 'UNite to Combat Climate Change', a campaign calling for a definitive agreement at international climate-change talks scheduled for December 2009 in Copenhagen, Denmark. The paintings selected for the exhibition bring to light children's fears about climate change. Together, they represent a powerful plea for action by world leaders.

Soundbite: Andrew Bartolo "Our paintings show that we are willing to make efforts to preserve the natural environment and raise awareness about what is already happening to this earth," Andrew said at the opening.

"As children, there is only so much we can do. At home, we can recycle and turn off lights, but it is up to governments and other organizations to take care of environment on a global scale."

Soundbite: Janos Pasztor, Director of the Secretary General's Climate Change Support Team.
"Youth are absolutely key to combating climate change," said the Director of the UN Secretary-General's Climate Change Support Team, Janos Pasztor, who spoke on behalf of Secretary-General Ban Ki-moon. "They will have to face the impacts in their generation.

Organized by the United Nations Environment Programme (UNEP) and the Natural World Museum, the exhibition of original artwork was chosen from a pool of nearly 200,000 paintings. The show will eventually travel to various climate-related events and meetings throughout the world, culminating in Copenhagen next year.

Twenty six paintings from the exhibit will be auctioned at the Harvard Club in New York City. Additional artwork will be sold online to enable people around the world to participate.
The funds raised will go to UNICEF to help assist children affected by emergency climate-related disasters.