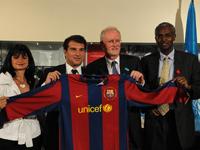 * UNICEF: FC Barcelona opens photo exhibit dedicated to orphans of Swaziland
* 시간: 02 min 59 secs
* 촬영도시: New York, NY
* 촬영국가: United States
* 촬영일자: 12 Jun 2009

UNICEF partners FC Barcelona, fresh from their 2009 Champion League victory, brought a different sort of trophy to
UNICEF house. It was a testament to the work being done to support some of the world's most vulnerable children.

SOUNDBITE (English) UNICEF representative in Swaziland Jama Gulaid:
"The story setting is in Swaziland, a very small country far away from the soccer fields of Europe where many of these championship games are taking place, and a country that has the worst epidemic of HIV in the world, where 50 percent of the children are dying from HIV related causes."

These portraits tell the story of Swaziland's most vulnerable children – those affected by HIV. The exhibit was funded by FC Barca and hung in the club's stadium before making its New York debut.

FCB President Joan Laporta was present for the premiere at which he said that the club would continue to wear the unicef logo on their jerseys and take pride in the work being done in Swaziland – programs that Laporta has witnessed personally.

SOUNDBITE (English) Joan Laporta, President FC Barcelona:
"When I am seeing these pictures I remember my personal experience in Swaziland and I remember some orphan kids. They were in the homes of some families. It's really touch(able) and nice to remember that we are contributing to help these kids. It touches our hearts."

FC Barcelona and UNICEF have been partners since 2006, working closely on HIV related programs in Swaziland, Angola and Malawi. It's an alliance that brings more to UNICEF's causes than the annual 1.5 million euros allocated on paper.

SOUNDBITE (English) Philip O'Brien, UNICEF Director of Private Fundraising and Partnerships:
"I would never dream of quantifying the relationship in money terms with Barca."

After two years of successful partnership, Barca is now broadening its alliance to contribute to programs throughout Southern Africa. Laporta said he hoped that having a more global impact would help the club "make sense" of its many victories on the field.

But UNICEF doesn't expect disappointed fans:
SOUNDBITE (English) Philip O'Brien, UNICEF Director of Private Fundraising and Partnerships:
"In Madrid next year when Barcelona are playing Manchester United in the finals again, then we will need to turn that into a celebration of what the world can do for children."