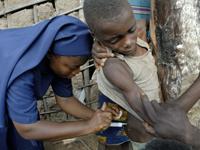 * Day of the African Child: helping save lives of Congo's indigenous children
* 시간: 03 min 16 secs
* 촬영도시: Moscow Village
* 촬영국가: Congo
* 촬영일자: 26 May 2009

As the drumming picks up pace, more people join in the singing and dancing. For this small indigenous community living along the banks of the Bangui river in a remote part of northern Congo, there is cause for celebration. A mobile team of health workers have arrived to vaccinate, treat their diseases and provide them with advice on hygiene.

Doctors from Medicin D' Afrique, along with missionaries from the Catholic church have traveled five hours by motor boat from Impfondo, the capital of Likoula Province to Moscow, a small village on the fringe of the forest.

The Jongi, a magical spirit from the forest, appears from the bushes to bless the contingent. Despite the tropical heat, the singing and dancing continues at a frenzied pace.

When the Jongi eventually returns to the forest, the music and dancing die down, and the community gathers for treatment. For ten year old Albert, the pain of Sister Ancillia's jab of penicillin will soon be forgotten. He is suffering from yaws, a highly contagious skin infection that although eradicated in many parts of the world remains common amongst forest dwelling communities and can be easily treated.

For many indigenous people living in Republic of Congo, regular health services are practically non existent. Mortality rates are high. Malaria, measles, tropical skin diseases are all common.

SOT: SISTER ANCILLA, Association of the Holy Spirit:
"This work is very important to them because if you neglect them and leave them, many of them will die. Some of them suffering from this sickness Peon, one you give them this injection, when you come back in two or three days and you see this wound is going away, gradually it will go away. When you leave them like that they will suffer more."

The challenge in many remote communities is the lack of health facilities but even those that do have access, struggle to get treated. Discrimination against the Congo's indigenous people is deeply entrenched. For the region's first people's, the racial hierarchy of colonial days has continued unabated. They are perceived by many as sub-human and ready to exploit as cheap labor.

In makeshift desk, Rufin is filling out birth registration forms. It is no easy task for the parents who often have scant details on when and where their child was born. He often has to resort to examining teeth to guess approximate ages.

The mobile health clinic, along with the birth registration, is part of larger national plan approved by Government ad supported by UNICEF and its partners to help overcome the marginalization