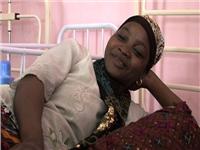 * UNICEF: Anti-tetanus campaign saves lives in Cote d'Ivoire
* 시간: 02 min 43 secs
* 촬영도시: Abidjan
* 촬영국가: Ivory Coast
* 촬영일자: 20 May 2009

Sabra Seydou arrived at the Abobo clinic in Abidjan with only a few minutes to spare before giving birth.

This is her second visit to the clinic since the beginning of her pregnancy.

Extreme poverty has meant Sabra could not afford pre-natal tests or consultations.

She was however able to have her first vaccination against tetanus, provided free by the Ivoirian government.

Her second vaccination was scheduled for next week.

SOUNDBITE: (French) Bernadette Kah, midwife: "After the birth, the child will not be protected. For this reason we will give the child and the mother a tetanus serum, after which, the mother will also receive her second dose of tetanus vaccine."

Tetanus, a bacteria that thrives on dirt and rust, generally enters the body through cuts on the skin from infected sharp objects.

Add this to other infectious diseases and lack of adequate health services, the national infant mortality rate reaches 89 out of 1000 live births.

The disease can also be contracted by the application of traditional medicines used postpartum.

SOUNDBITE: (French) Dr. Mamadou Keita, district director of Easter Abobo's Department of Health for the Government of Ivory Coast: "They put decoctions – extracts of leaves on the umbilical cord and also on the mother ...but these are clearly not sterile."

To address this serious killer of women and children, the Ivorian Government, with the support of UNICEF and other international partners have held a three-phase vaccination campaign throughout the country.

The campaign reaches into every neighborhood in Ivory Coast and aims to immunize over 5 million women.
For a post-conflict country with a tropical climate, the logistics are impressive.

SOUNDBITE: (French) Ange Niama, logistician, National Institute of Public Health: "We keep the medicines in cold storage truck that maintain the temperature between two and eight degrees Celsius. Then we take them to the site."

Routine immunizations for Tetanus and other deadly and paralyzing diseases such as measles and polio continue throughout the year, as part of the Ivory Coast's commitment to health and development.

SOUNDBITE: (English) Maarit Hirvonen, Country Representative, UNICEF: "Now we are 39 countries with the tetanus problem, and Cote d'Ivoire is one of those, where we try to eliminate, and we hope that next year, 2010, we would have been eliminated, and then we could attack other problems that harm mothers and their babies at a very ea