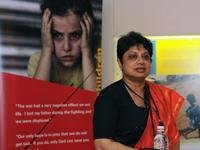 * UNICEF: Ten years on, Machel Study cites continued abuse against children in conflict
* 시간: 02 min 16 secs
* 촬영도시: New York
* 촬영국가: United States
* 촬영일자: 16 Jun 2009

More than a decade has passed since Graca Machel reported on the horrors of children trapped in armed conflict to the United Nations General Assembly.

This year, a new publication documenting the results of a ten-year strategic review of the Machel Study… was launched by UNICEF and the Special Representative of the Secretary General on Children and Armed Conflict.

The nature of global conflicts has changed over the years, and increasingly, children are targeted… they are victims of the devastation of war…. And often, they are recruited as soldiers in wars that aren't theirs to fight.

SOUNDBITE, ANN M. VENEMAN, UNICEF Executive Director (English):
"They are not only caught in the crossfire, they are often the intended targets of violence, abuse and exploitation. Over the past decade, children have been the victims of attacks on schools and hospitals, and they continue to be killed or maimed by landmines and other explosive devices. In conflict zones, their vulnerabilities often increase because violence claims their first line of defence: that is their parents."

The "Machel Study 10-Year Strategic Review: Children and Conflict in a Changing World" calls on governments, UN agencies, and civil society… to urgently step up efforts to protect all children affected by conflict.

SOUNDBITE, RADHIKA COOMARASWAMY, Special Representative of the Secretary General on Children and Armed Conflict:
"We have new and emerging issues and we really have to see how we are going to meet them and I think that the Machel Study is the first place that this has been looked at - in the study - at least chronicled as a chapter, that we need to look at."

With the launch of this new advocacy tool… Children who are at risk of losing their childhoods to war need not also lose their futures.