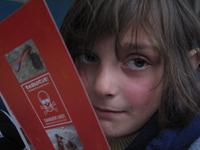 * UNICEF: Promoting awareness about risk of mines in Georgia
* 시간: 02 min 28 secs
* 촬영도시: Kirbali
* 촬영국가: Georgia
* 촬영일자: 09 Apr 2009

Life is gradually returning to normal for most children at the Kirbali village school near Gori following last year's conflict between Georgia and Russia over South Ossetia However, 15 year old Soso must live with a terrible legacy of war.

His left hand was blown off after bringing a grenade-like explosive to school earlier this year.

Soso says he found the explosive in the gutter. In class it felt warm so he went outside hoping to throw it away.

It detonated just as he removed it from his pocket.

SOUNDBITE (Georgian) SOSO KHIRKHELI, 15 year old student:
"No, I did not know what it was. If I knew I would not pick it up. I did not know. I picked it up like other boys and I did not know what it was."

Soso is not a lone victim, several children have lost limbs in the region.

UNICEF is working closely with the Halo Trust and the Ministry of Education to ensure that children understand the dangers of landmines and unexploded ordinance; that they can recognize warning signs and know what to do if they see an object that looks dangerous.

UNICEF's Mine Risk Education programme aims to teach nearly 50-thousand young people in the Gori region about the risks of war-affected areas. Special learning materials are available in schools and for children to take home to their families.

SOUNDBITE (English) Benjamin Perks, UNICEF Georgia Deputy Country Representative:
"With minimum intervention with teachers, by giving them the basic skills to train children, and through other methods such as animation and child friendly activities, we can make sure every child knows about the dangers out there."

In villages and fields where fighting took place, unexploded ordinance such as cluster bombs continue to preset a deadly risk.

Clearing the explosive remnants of war is likely to take time.

All children affected by armed conflict have the right to protection and care.

UNICEF will continue working with the Georgian Ministry of Education to ensure that children in war-affected areas do not become victims of explosive remnants of war.