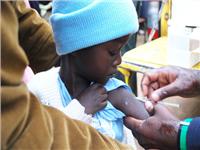 * UNICEF: Zimbabwean Children Under Five Take Part in the National Child Health Days
* 시간: 03 min 14 secs
* 촬영도시: Masvingo & Harare
* 촬영국가: Zimbabwe
* 촬영일자: 10 Jun 2009

Against the early morning chill, mothers and children across Zimbabwe start gathering at their local clinics, schools, market places or even under the trees.

For the next five days, nearly 2 million Zimbabwean children under five years of age will take part in the national Child Health Days.

As the country emerges from a total collapse of its health services, heightened by the absence of health workers and an unprecedented cholera outbreak, immunizing children against killer diseases like polio, measles, and boosting their immunity with vitamin A is crucial now than ever.

Here in Masvingo, a district in Southeast Zimbabwe, hundreds of mothers and children have gathered from nearby villages.

In rural areas where 80 per cent of the population reside, mobile outreach points like this are set up to make sure all children can have access to the vital health interventions.

For this round of Child Health Days, UNICEF has received more than 3 million US dollars, the biggest amount since the agency helped the Government launch the campaign in 2005.

Since then, immunization coverage has increased from 50% to over 70%, and vitamin A supplementation from below 20% to 80%.

Soundbite (Enlgish), Sally Mwamuka, Nursing Sister (Immunization)
At this clinic in Harare, the capital, a mass turnout of mothers wait patiently to have their children immunized.

Soundbite (Shona), Farisai Matavire, Mother: "I was informed by the lady next door about this immunization campaign, so I have come with my child to have her immunized against polio. I am very happy because it did not take too long for me to be served."

Just a year ago, most health workers around the country were not reporting for duty because of poor compensation.

But today they are mobilized. Back at work for the success of this national health drive, thanks to the donors and partners who put the health of Zimbabwe's children first and foremost.