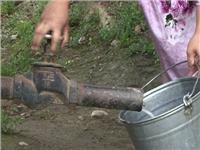 * UNICEF: Clean water gap affects rural residents of Tajikistan
* 시간: 04 min 37 secs
* 촬영도시: Dara
* 촬영국가: Tajikistan
* 촬영일자: 01 May 2009

Every last drop of fresh water is precious in the little village of Dara, in the central Asian Republic of Tajikistan. So precious that it's a major pre-occupation for its 1700 inhabitants.

Dara's major source of water is the river – a river so dirty, so saline that you can't drink it, irrigate or get anything clean with it. It's fit only for livestock.

And it's the same story for all the villages in this area – a total of seven thousand people.
Yet Dara is a mere ten-minute drive from the centre of the Tajik capital, Dushanbe – where there's no water shortage at all. They keep getting promises of water – but they've no idea if it'll ever come.

SOUNDBITE (Tajik) Hamroqul Siddikov, School Director:
There's no fresh water near our village and the government doesn't allow us to take water from Dushanbe because it has 9-storey apartments, the water won't go to the top floors. 36.35 and there are no Government funds to bore for underground water.

Fresh water became an issue only after the Soviet Union collapsed and along with it, the area's canals. The result was a surge in serious illness striking particularly at women and children, like 3-month old Omeena, who's got severe diarrhea.

SOUNDBITE (Tajik) Muharrama Ahmedova, Village Nurse:
The lack of safe water is the cause of diseases the include 23.38 diarrhea, typhoid fever, malaria, anaemia – and these are just some of the diseases we deal with because of a lack of water.

Villagers do what they can to safeguard their children – but even the school has no water tank and so nowhere to wash, nothing to drink.

SOUNDBITE (Tajik) Hamroqul Siddikov, School Director:
School children have to bring boiled water in plastic bottles and there are 245 children and 14 teachers. The toilet doesn't meet today's standards.

For those who can afford it, the arrival of Kurbonali is always a welcome moment – the safest water comes in a tanker – but at a cost.

A tank that'll last a family about two weeks costs around 12 dollars, but in a village long-haunted by poverty and unemployment, that's out of reach of many.

SOUNDBITE (Tajik) Ahmad Saidov, villager:
People with money can afford to buy water and they have tanks to fill – but people without money haven't got tanks and can't afford the water anyway.

SOUNDBITE (Tajik) Sanovbar Saidova, villager:
This rain water we use for everything … for drinking, for making meals, for washing clothes, for everything.

Sanovbar lives in a