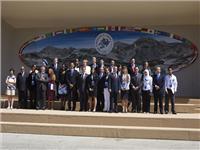 * 'Junior 8' youth delegates present views to G8 world leaders in Italy
* 시간: 02 min 39 secs
* 촬영도시: L'Aquila
* 촬영국가: Italy
* 촬영일자: 09 Jul 2009

Fourteen young people, from fourteen countries, driving with a police escort from Rome to the G8 summit in L'Aquila, Italy, for a face-to-face meeting with the head of their respective countries.

They were selected by their peers at the UNICEF Junior 8 Summit to meet with the various presidents and prime ministers – and chancellor – to urge immediate action on such topics as guaranteeing a quality education for all children, as well access to safe drinking water for the 1.2 billion people who lack it.

They met with the leaders for half an hour, then spoke with the media afterward. Each young person talked about their individual conversations.

SOUNDBITE (ENGLISH), Moeko Fuji, age 16:
"What I told my prime minister is that we, the J8 community, address many problems – climate change, African development, the financial crisis – and what we said is, "It's good to say we
need to address these problems but what we really need is actions!"

SOUNDBITE (ENGLISH), Nigel Woodrich, age 16:
"I told him that we need to treat Africa as equal partners on the world stage so that they will be no longer dependent on foreign aid."

SOUNDBITE (ENGLISH), Richmond Sajini, age 15:
"He thanked me that I was able to come here and lift the name of our country high. And I had to explain to him that there are no borders here. We are all one community and we don't bound each other by our countries."

SOUNDBITE (ENGLISH), Emmanuella Louidsor, age 17:
"And when I met President Obama, I told him that the J8 community has worked really hard to find solutions to issues on climate change, child rights, education, and poverty and development in Africa."

They also took questions from journalists. Upon their return to the J8 Summit in Rome, where they've been working all week on their recommendations, the 14 young people were greeted with a surprise party from the other 40 young J8 participants, who wanted to hear all about their meeting.

For these young leaders, the J8 summit has given them a unique opportunity to speak up... and be heard.

This is Thomas Nybo reporting for UNICEF Television in Rome.

Unite for Children.