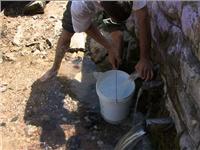 * UNICEF: Waiting for Clean Water Supply in Rural Kosovo
* 시간: 03 min 55 secs
* 촬영도시: Kosovo
* 촬영국가: N/A
* 촬영일자: N/A

It's cold, clear – and it's disappearing fast. In Central Kosovo, the main source of water for many rural families starts to dry up in early summer.

For the people who live in and around the village of Obri, water – or the lack of it – is a major source of concern.

A mild winter and spring rains give every appearance of plenty – but people like Shukrije know that both quantity and quality are highly unreliable.

SOUNDBITE (Albanian) Shukrije Xhemajli, villager: What can I say – to have more safe drinking water would have been much better. For everyone, not only for my family but in general and to have it in sufficient amounts not like now:drop by drop.

Shukrije's son, Halil, was rushed to hospital several years ago where he was diagnosed with meningitis – probably contracted from the water he drinks at home.

There were other cases at the same time – and there was an investigation: but no one ever heard if there were any results.

Meningitis is just one disease in a range of debilitating and potentially fatal waterborne illnesses common in rural areas of central Kosovo.

SOUNDBITE (Albanian) Shehide Demaj, Pre-school Teacher: There are a number of different because of contaminated water – intestinal infections stomach pains skin diseases and other diseases.

The importance of clean water and careful hygiene is a daily part of what preschoolers learn at the school built with UNICEF funds at Obri.

SOUNDBITE (English) Tania Goldner, UNICEF, Kosovo,: Forty percent of rural households do not have access to safe drinking water, more than this, 60% of schools do not have access to safe drinking water. What does this mean for children? This means their health is impacted, their growth and development is impacted.

Ilir Demaku is Obri's representative to the larger municipality – and he says there've been promises of a proper, mains supply of water – but no one knows when it'll be built.

SOUNDBITE (Albanian) Ilir Demaku, Village Representative: Drawing water from the wells is very antiquated. And the water isn't completely clean or disinfected in appropriate ways. What's more, the water sources are very small in the whole region Inevitably, what water there is will dry up as summer progresses. For the Demarku family that means buying fuel for the tractor and heading off five kilometres to another town over the hill.

The village spring flows all year round … and it's lucky it does, because scores of families in the area rely on it. For Hazir's extended fami