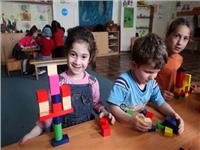 * Displaced Georgian children lives improved by UNICEF Early Childhood Development kit
* 시간: 02 min 57 secs
* 촬영도시: Tbilisi
* 촬영국가: Georgia
* 촬영일자: 31 May 2009

Every day of the week, Luisa and Giorgi walk with their mother from their temporary home in a dilapidated IDP collective centre to a child-friendly space established by UNICEF and its partners.

Luisa and Giorgi need a safe place to play amid a life disrupted by conflict, so they can learn, develop and build up their confidence.

SOUNDBITE (Georgian), Tamriko Shotulova, Mother:
"I think It plays an important role for children's education, upbringing. My children have been attending this kindergarten since August. They got a lot of experience in terms of
education and social skills."

The children are playing with toys from UNICEF's Early Childhood Development kit. The kit contains early-learning, psycho-social and play materials for infants and young children from birth to the age of six.It's a complement to UNICEF's 'School in a Box' and 'Recreation Kit'.

Although it can't replace a normal school environment, it can help with rapid-response interventions in emergency situations.

Some of these children suffered psychologically because of the conflict. Many families left their possessions behind when they fled their homes, leaving the children without toys. That's why kits like this one are much needed.

SOUNDBITE (Georgian): Eka Chubinidze, caregiver:
"They don't have the opportunity to play with anything, so everything helps - whether it's different, colourful or new, it's interesting to them. With our permission, they put the
toys in their bags and take them home to play with, and then bring them back the next day, because they miss toys so much."

Most of the materials in the Early Childhood Development kit can be used for several years. They're aimed at helping children continue their development both during an emergency and afterwards.

SOUNDBITE (English): Giovanna Barberis, UNICEF:
"The majority of displaced children living in collective centres really experience very high emotional distress, and this is because of the very hard times they have gone through during last summer's crisis, so providing them with quality learning and play materials is really, really, really essential to their learning development, but especially for their psychological rehabilitation and recovery."

It's estimated that more than 30,000 people displaced by the recent conflict in Georgia will not be able to return to their homes in the foreseeable future.

Thousands of them are children, like Luisa and her brother Giorgi. But in this child-friendly space, with