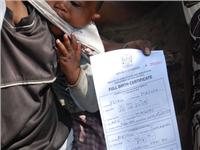 * UNICEF: Creative ways to register and protect children in Namibia
* 시간: 03 min 32 secs
* 촬영도시: Okongo
* 촬영국가: Namibia

More than a year ago, a novel idea for children became a reality.

The Namibian ministry of home affairs and immigration set up an office in the maternity ward at Katutura hospital, the main public hospital in the country's capital city Windhoek. The purpose – to make sure every child born gets a birth certificate.

In a country where 80 percent of women deliver in a hospital, but only 4 out of every ten children have a birth certificate, what better place to start.

This unique partnership between two ministries, with support from UNICEF is now being rolled out to 34 health facilities. It was clear though that in such a sparsely populated country this alone was not enough. There was an urgent need to take services to those children who had missed out.

In the remote sandy down of Okongo, in northern Namibia, hundreds of people including children and old people have been camped out overnight waiting for the mobile registration services. They are desperate to be counted as a Namibian but the nearest home affairs office is more than 100 kilometres away, out of reach for many of the people who live here.

The mobile campaign is the second in a year and has sought to bring these critical services to the most remote communities and to protect with documentation some of the poorest and most vulnerable children from early marriage, abuse and trafficking.

SOUNDBITE (English) hon. Rosalia Nghidinwa, Minister of Home Affairs and Immigration:
"Namibia is a member state of united nations with a mandate given to all states to have their people registered as their right, they can have access to health facilities, education, social grants."

Birth certificates are even more of necessity for Namibia's indigenous san children. In a country suffering from very high levels of disparity, these are the poorest and most marginalized minority, who often live on the periphery without access to the most critical services.

Sakaria does not know his age nor the full names of his parents. A relative brought him along to get his papers.

As an orphaned child, getting his certificate should now translate into access to a child grant as well as access to school.

SOUNDBITE (English) Tilames Augustinus, Civil Register Control, Northern Region, Ministry of Home Affairs and Immigration:
"the challenge we face in this area, the problem is that many people nomadic people they do not know their dates of birth and do not know their names and their mother's and father's names"

Petras's mother has brought her newborn son. Parents a