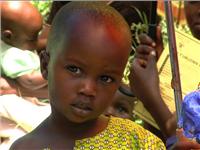 * UNICEF releases global nutrition report
* 시간: 02 min 20 secs
* 촬영도시: Various
* 촬영국가: N/A
* 촬영일자: 29 Oct 2009

Lack of food is a serious problem for more than a billion people. And as with any emergency, it is the youngest who suffer the most.

A new UNICEF report reveals that under nutrition is a factor in more third of the deaths of all children under the age of five.

SOT Werner Schultink UNICEF Nutrition Associate Director
"The report we have launched draws attention to the fact that 200 million children under the age of five in the developing world suffer from chronic undernutrition. That's a very high number."

A few countries bear a disproportionate burden. Eighty percent of chronically undernourished children live in just 24 countries, mostly in Africa and Asia. One of things these countries have in common is the status of women.

SOT Werner Schultink UNICEF Nutrition Associate Director
"Either women have a low level of education and do not have access to good information, women do not have enough decision making power to either take care of themselves or of their children and in general are seen as lower class citizens in these societies."

Lack of food in early childhood is a time bomb. Malnutrition not only makes children more susceptible to illnesses such as pneumonia and diarrhea its impact can last a lifetime.

SOT Werner Schultink UNICEF Nutrition Associate Director
"At the age of five or six if they survive, they will stay with these children for the rest of their lives so they will perform less well in school they will be able to do less well as an adult and even worse their health situation in adult life may be negatively affected. They are more likely to suffer from chronic diseases such as heart disease or diseases such as diabetes."

UNICEF and its partners will continue to build on programmes which effectively deliver vitamin A and iodized salt and to teach women the correct way to breastfeed and UNICEF is calling for urgent international action to stop the cycle of under nutrition repeating itself in future generations.