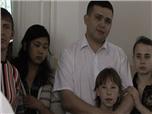 A day in the life of Alexei Petrushevski is not for the faint of heart….

Before the morning's out, he'll have been to four meetings and fielded at least fifty phone calls.

Combining determination, charm, bullishness and sheer enthusiasm, Alexei fights for the most defenseless citizens of the Central Asian Republic of Kyrgyzstan.

In six years, a thousand homeless or troubled young people have passed through the Bishkek Centre for Street Children.

SOUNDBITE (Russian) ALEXEI PETRUSHEVSKI, Director, Bishkek Centre for Street Children: "It fills me with joy when children come and feel happy here as if they're at home. If they feel as if they're part of a family, then I think all the hard work isn't wasted."

Alexi wants his wards to regain self-respect, a sense of belonging and some hope for their future.

SOUNDBITE (Russian) unidentified ward: "For a start I feel at home here. It was a really good idea to create such a place that can help people."

SOUNDBITE (Russian) unidentified ward: "He's a very, very good and kind person and the social workers are good people, too. They are doing all the good work they can possibly do."

This is very much Alexei's project – he started it and while others stop down to sleep or eat – Alexei keeps on going.

SOUNDBITE (Russian) Yelena Gavrilova, Child Rights lawyer: "I can tell you honestly that he's the right person at the right time. What's more, he's got a natural instinct to fight for children's rights."

Still going well into the evening, Alexei takes one of his wards to visit her grandparents. It's an all-to-common story – her parents both died from alcoholism … her grandparents are sufferers, too.

SOUNDBITE (Russian) PETRUSHEVSKI: "Children are supposed to be happy. There shouldn't be anything in this country that abuses them or undermines them – not in this country and nowhere in the world."

But there are rewards. The former street children put on a concert for war veterans that shows what talents they hide.

SOUNDBITE (English) Tim Schaffter, UNICEF, Kyrgyzstan: "It's so wonderful to see that there are people who are willing to put not just the time but the heart and soul into and other children have said there's nothing he wouldn't do for children there. So to me, Alexei is a true champion, a true hero for children."

And as Alexei trains another group to take part in a skating spectacular, he can reflect on work that makes him – on the 20th anniversary of the Convention of the Rights of the Child – one of its heroes.

SOUNDBITE (Russian) ALEXEI PETRUSHEVSKI, Direcor, Bishkek