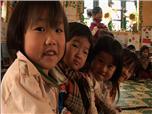 Despite their remoteness in the northern hills of Vietnam, the children of the Kim Dong Lower Secondary school are very much aware of their rights. Not only knowing their rights, but also able to express them, as in this life skills poster class.

SOUNDBITE (Vietnamese) Do Thuy Huong, Student: "The meaning of our drawing is that regardless of gender or family background, we all have the right to go to school."

Fellow student, Luong Quoc Viet agrees. For him, there are no better advocates for children's rights, than the children themselves.

SOUNDBITE (Vietnamese) Luong Quoc Viet, Student: "If children know about their rights, then they will be able to express their wishes properly with the adults, and have a greater chance of their wishes coming true."

In a neighbouring district, these younger primary school children are well on their way to learning what rights they have, thanks to special classes.

SOUNDBITE (Vietnamese) Pham Auh Tuan, Principal Ban Pho Primary School: "And through the education of the students, we also aim to raise the awareness of the whole community."

Ensuring the rights of children is essential to guaranteeing the best start in life for them. UNICEF and its partners are committed to putting these principles into action for children in Vietnam and all around the world.

SOUNDBITE (Vietnamese) Ly Mui Xuan, Pre-school Teacher: "When children know they have the right to go to school, then they tell their parents to bring them."

Ultimately, for children like 10-year-old Lu Thi Dung, it all amounts to the right to a safe and happy childhood, full of hope for the future.

SOUNDBITE (Vietnamese) Lu Thi Dung, Student: "As well as education, I know I have a right to play and a right to sing and dance."