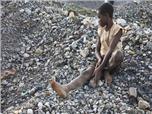 Perched between piles of rubble and rocks, two year old Sylvian covered in a powder spray of dust, sits along side his mother pounding rocks with a makeshift mallet. Rocks, dust, sun – this is all he has known during his short life, twelve hour days starting at five in the morning, ending at dusk, the constant sound of pounding rocks serving as the time keeper.

His mother, forty year old Bichi Banza is strong and proud. But her face is lined and worn by long days in the hot sun.

She sees no other option, she has six hungry children to feed everyday.

Each day they come to the old ore dumps in the southern Congolese town of Kipushi to pound the larger rocks into gravel. The finished piles high sell for 30,000 francs and are used in building construction. For the mothers, the occasional sale of a pile of gravel will hopefully keep children fed, but rarely is it enough to pay the monthly cost of school.

SOUNDBITE: Bichi Banza, mother, 40
When one doesn't eat, when one doesn't even have the possibility to eat, when one doesn't have the possibility to pay school fees for the children? No this is why you see us here with our children.

In the last few years, new private mining investment had led to new jobs and new opportunities in Congo's resource rich Katanga province. But a dramatic fall in the price of minerals caused by the global financial crisis has hit Kipushi and other mining towns hard. Many mines have shut down, those that haven't, have scaled down operations.

Thousands of jobs have been lost. Many have turned to crushing rocks to survive.

SOUNDBITE: Bichi Banza, mother, 40
This is a mining town. It says so in all the papers and in all the documents. If the mine stops, the town stops. According to Article 32 of the convention on the rights of the child, children have the right to be protected from economic exploitation and through the efforts of Group One, a UNICEF supported Belgian NGO, this is starting to happen. They are seeking to remove children from the hazardous working conditions of the quarry and get them back to school.

12 year old Vanessa used to spend her days with her mother at the ore dump. Six years ago, her father, a welder, joined the thousands of other retrenched mine workers. At first her parents could afford to keep her in school, but two
years ago she was forced to drop out and started working full days, dawn to dusk, with a mallet in her hand.
But in September 2008 Vanessa was chosen by Group One to be part of their project.
SOUNDBITE: Vanessa, 12
I saw my friends going to school and it hurt a lot. I kept looking for ways to go to school. Thankfully Group One came
along and took me off the quarry and sent me to school.
The project acknowled