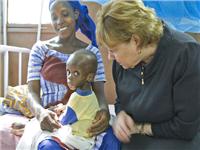 * UNICEF Executive Director Ann M. Veneman Visits Mali to Address Malnutrition and the Impact of Climate Change
* 시간: 04 min 04 secs
* 촬영도시: Bamako and Timbuktu
* 촬영국가: Mali
* 촬영일자: 07 Nov 2009

Mali, a country bisected by the vast and ever-growing Sahara desert would seem a likely candidate for food shortages and starvation, yet the streets of Bamako, the capital, are chock full of fruit and vegetable stalls and animal markets.
Still, malnutrition rates have reached unacceptable levels. A combination of soaring food prices and high levels of poverty mean that although food is plenty, it doesn't always reach those in need. This, coupled with low levels of breast-feeding in infants, extremely low use of primary health care services and cultural confusion, has led to emergency level malnutrition rates in the country.

Health Centre 1 in Bamako receives referrals from the surrounding districts; its malnutrition ward is full.

SOUNDBITE: Habibata Traoré, pediatric doctor.
"We get children in different conditions, some can't eat, some are hyper sensitive, some are not cognitive and need to be put on feeding tubes."

1 year old Abdoulaye was one of those cases, he refused to breastfeed and then began to suffer from diarrhea. But it was only when he grew too weak to sit and too weak to lift his head, that his mother brought him in, three months after his diarrhea had begun.
After weeks of intense treatment with drips and then therapeutic milk, he is much healthier and much stronger.

SOUNDBITE: Roccaya Diarra, Mother:
"He is much better now, when he arrived he couldn't sit up and his head rolled, but now he can sit up and stay like that, he's taking food as well, he drinks all his therapeutic milk and look forward to meal times."

According to a new UNICEF report, malnutrition worldwide has topped one billion and is a factor in one third of all under five deaths. In a bid to draw attention to the crisis, not only in Mali, but around the globe, UNICEF executive director, miss Anne Veneman, visited the country. After meetings with president Amadou Toumani Touré and ministers, miss Veneman visited the district 1 clinic. Here she spoke to doctors and nurses about their work and about malnutrition. She met with mothers who receive supplementary therapeutic food from the clinic, and with mothers, like Rocacaya Diarra, whose children have been admitted.

SOUNDBITE: Anne Veneman, Executive Director, UNICEF
"Well Mali does have a significant problem with under nutrition, both in under 5 under weight children which averages over 30% as does stunting, so its centres like this that help the children recover from malnutrition and its thanks to the mothers who bring the