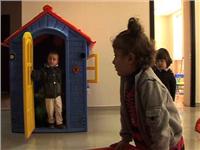 * UNICEF: Access to primary and preventative health care for children in Georgia
* 시간: 02 min 43 secs
* 촬영도시: Tbilisi
* 촬영국가: Georgia
* 촬영일자: 07 Apr 2009

Mariam suffers from asthma, a common respiratory condition.

But doctors at Georgia's new Child Development Centre in Tbilisi have also detected that the four year old has a heart condition.

Until now, Mariam's mother Teona was not sure how to best look after her daughter's health.

Every child has the right to the highest standards of health care.

Together with assessing children's health, the Child Development Centre evaluates their psychological and behavioural development.

With the support of UNICEF and international partners, the centre is pioneering early child development in Georgia.

SOUNDBITE: Dr. Maya Kherkheulidze, Head of Child Development Centre, Tbilisi
"It's innovative for Georgia because mostly in our centres we were only assessing the child's health and we were neglecting the development and behaviour of the child."

Infant mortality in Georgia is still a challenge. Health authorities also lack sufficient data on child disabilities and learning disorders.

However, the new centre is helping to create databases for nationwide monitoring.

The centre now serves as a research and training institution for health care professionals and medical students.

UNICEF is confident the centre will promote a holistic approach to early childhood development in Georgia.

SOUNDBITE: Benjamin Perks UNICEF Georgia Deputy Country Representative:
"We want to support the Government in ensuring that every child has the best possible start in life. This means addressing the nutritional issues, the health issues, the developmental issues and well as learning issues."

Teona and her family remain displaced following the 2008 conflict between Georgia and Russia over South Ossetia.

The centre provides important free primary health care that they would otherwise not be able to afford.

SOUNDBITE:(GEORGIAN) Teona Giunashvili, 20, Mother:
"Yes I would recommend people to visit the clinic for even minor problems, because there is a lot of care and attention here and there are very good health professionals."

The centre is a result of Georgia establishing a national Early Childhood Development Strategy. Access to primary and preventative health care is an important child right.

UNICEF will continue working with the Georgian government to help deliver programmes providing a holistic approach to early childhood development.