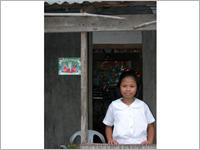 * Education in Emergencies programmes helping children in the Philippines for the next disaster
* 시간: 02 min 39 secs
* 촬영도시: Albay Province
* 촬영국가: Philippines
* 촬영일자: 01 Nov 2009

Bearing the brunt of Pacific Ocean typhoons that this year suffering a devastating succession of storms.

The Philippines is no stranger to disasters, and its exposed Albay Province, is one of the most disaster-prone places on earth.

So, for the students, staff and parents preparing for the next disaster can one day save lives.

This is an education system, very much in the frontline of preparing for natural disasters, through risk reduction programmes.

Special disaster risk reduction councils, bring together representatives of the school and community.

And principal players, are the children themselves.

All of these initiatives are supported by TABI - a local NGO partner of UNICEF - with an emphasis on community self-reliance.

SOT Maricris Binas - 'TABI' NGO - "They have experienced evacuation. I have not. So who am I to tell them. They have the practical experience, we have the theory."

The idea is that lessons taught to children, will ultimately reach the wider community.

Ten-year-old Rose, already knows the importance of trying to prevent landslides and floods.

At the end of class each day, she walks home along one of the volcanic rivers that sometimes bursts its banks, and floods the poor shanty homes that cling to the land either side – hers included.

SOT Diana Rose Dominguez, 10-years-old: "It is very frightening when we have to leave. But when the waters subside, we always come
back."

In preparing for the worst, students become more resilient and active citizens.

Determined to overcome the challenges, to have a home and an education.

SOT M-Jay Perez, 15-years-old: "I am determined to continue my studies because I want to help my family and repay them for the good things they have done for me."

SOT Ma. Lourdes de Vera-Mateo – Chief, Education Section, UNICEF: "From the child's perspective It is this routine, the rhythm of school, that brings assurance, and brings back normalcy in their lives."

These programmes and investments in education, build resilience in communities today and shape a new generation of leaders for a more sustainable future.