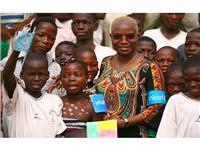 * UNICEF Goodwill Ambassador Angélique Kidjo visits programmes for vulnerable children in Benin
* 시간: 03 min 48 secs
* 촬영도시: Cotonou-Porto Novo
* 촬영국가: Benin
* 촬영일자: 23 Dec 2009

Angélique Kidjo paid a two-day visit to Benin, her native country, to witness first hand UNICEF supported projects aimed at reducing child vulnerability.

Approximately 500,000 children aged 5 to 14 work. The majority are girls. They are placed mostly in urban families and the practice is called "Vidomègon". Child placement and child labour are highly developed. It is estimated that between 40,000 and 50,000 of these children are migrant workers who cross Benin borders.

SOUNDBITE (English) A.Kidjo UNICEF Goodwill Ambassador "You have early marriages, you have child trafficking that is part of the "Vidomegon" because it becomes dangerous when you can't trace your child anymore, even if you send your child with somebody that is a friend of yours or a member of your family that lives in the city and they come to you to tell you "if you give me so and so from the house, I can give them a better life, I can send them to school, they become doctors" Every parent dreams big for their kids so they trust that person and that is how child trafficking starts."

The economic exploitation and trafficking of children remain a major issue in Benin. The national Assembly adopted in January 2006 a law to combat child trafficking despite that between 1999 and 2004 only 70% of Beninese children were registered at birth.

SOUNDBITE (English) A.Kidjo UNICEF Goodwill Ambassador:
"In order to really be efficient fighting child trafficking it's the birth registration period. If the child is not registered somewhere it is as if the child has never been born. So we can't sit around and our programs trying to get the kids out of the street and bring them back because even if you save these children now, at one point in their lives they'll need their birth certificates. If you don't have birth certificate when you are 18 years old it's awful, it's harsh."

Goodwill Ambassador Angelique Kidjo visited Cotonou and Porto Novo -- 4 different transit centers for care and reintegration of children.

SOUNDBITE (English) A.Kidjo UNICEF Goodwill Ambassador they can no longer go to a normal academy or a school that means they can't have an education and have a life and be in charge and empower themselves for the future.

UNICEF supports them in the strengthening of technical capabilities of social workers and other staff in the field of psychosocial support, follow-up of children for successful reintegration into their families, communities and schools.

SOUNDBITE (English) A.