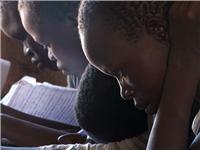 * UNICEF rescues Ugandan street children from violence and abuse
* 시간: 02 min 47 secs
* 촬영도시: Kapuat
* 촬영국가: Uganda
* 촬영일자: 27 Oct 2009

15-year-old John Bosco Abura has a tough story. Eight years ago, his father was shot and killed by cattle raiders in Karamoja in northeastern Uganda. "They steal cows," he says. "So that's how my father was killed. They shooted him two bullets. Here (motions to back), in the back."

Destitute, he and his mother moved to the capital of Kampala, where she was struck and killed by a taxi, leaving John alone and without money, at the young age of 10. He was forced to beg on the streets and scrounge for food. He slept in horrid conditions, and endured beatings and constant robberies at the hands of local gang members.

A government round-up of street children and beggars returned John and hundreds of others to a UNICEF-supported transit center in Karamoja.

Most of the returning adults and children are resettled in the region, but John had no family left.

Enter Father John Bosco Ngoya, who helped start the Bokora Initiative for Sustainable Resettlement Programme, to help returnees like John. He took John under his care, and is providing him with an education, and food and shelter.

"I am studying. Everything I want, Father Bosco gives me. My life in Kampala, there was just beating me, but here, I am even sleeping in the house, I am even studying, I eat very well."

John is one of 18 orphans who stay here.

They attend class at the Kapuat Primary School, alongside nearly 900 other students. This environment protects children like John from exploitation, abuse and violence, as well as providing them an education – all key factors in UNICEF's commitment to child survival, growth and development.

It's a long way from the streets of Kampala. Father Bosco offers a stark appraisal of life on the streets:
"Oh, a life of begging is the worst you could ever entertain in your life. First, you're on the streets in the sunshine from morning until evening. You're begging, and not everybody likes beggars. So you are insulted, you are kicked, you are pushed off from the road. And your sustenance there is not assured."

John's recovery has been remarkable. Using his newly acquired math skills, John says he wants to become a bank manager – a very different future from the one he imagined just a few short years ago.