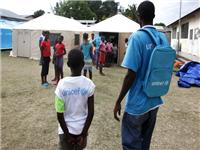 * UNICEF relief effort overcomes early logistical hurdles
* 시간: 02 min 57 secs
* 촬영도시: N/A
* 촬영국가: N/A
* 촬영일자: 01 Jan 2010

The dreadful impact of this month's earthquake in Haiti can be seen on the faces of the youngest.

In minutes, their already-fragile world was shattered … loved ones, and familiar surroundings gone for good.

In the days following the quake relief efforts were hampered by the enormous scale of the devastation SOT Louis-Georges Arsenault

UNICEF Director of Emergency Programmes (English)
"When the earthquake hit the most populated area of the country it not only destroyed hundreds of thousands of lives but also anything that was left in terms of infrastructure. Also the UN was very badly hit as well so our capacity on the ground was absolutely minimal."

Help is now flowing into Haiti —more than 300,000 kilograms of emergency supplies have been sent and more are being packed and shipped every day.

SOT Louis-Georges Arsenault UNICEF Director of Emergency Programmes (English)
"For the first time I can say with some comfort that the logistical capacity that we have on the ground to provide larger scale distribution, but also capacity for our staff, not to sleep outside—to have access to some rest, some capacity in terms of infrastructure, in terms of telecommunication only sixteen days after I can say with confidence that it is improving substantially."

UNICEF has set up more than a hundred and thirty water distribution points, getting life-saving fresh water to more hundreds of thousands of people. And It's establishing latrines for those driven from their homes.

In this children's emergency, UNICEF's focus remains on the needs of youngest and most at risk. Safe spaces have been set up for unaccompanied children. One of the first priorities getting children back to school.

SOT Leo Merores Haitian Ambassador to the United Nations (English)
"We do anticipate the co-operation of UNICEF in partnership with the government will be essential to ensure that children go to school that children get proper meals on a daily basis."

Even before the earthquake struck Haiti was one of the poorest countries on earth. As UNICEF and its partners turn their attention to the medium and long term needs of haiti's children, they hope to see permanent change rise out of the rubble.

SOT Louis-Georges Arsenault UNICEF Director of Emergency Programmes (English)
""I believe with the political will, and I believe it exists right now, the resources shouldn't be a problem. Globally, people are committed to supporting the people of Haiti, so we've got to do it right,"