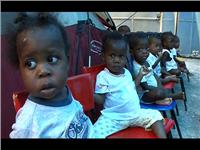 * UNICEF: Helping Haiti's orphaned and separated children find their families
* 시간: 02 min 39 secs
* 촬영도시: New York City
* 촬영국가: United States
* 촬영일자: 28 Jan 2010

Two weeks after a devastating earthquake struck their capital, Port Au Prince, Haitians are struggling to pick up the pieces; banners hang across the city, each one a cry for help.

The magnitude 7 quake tore streets and buildings apart; it tore families apart too.

Eleven-year-old Sindy lived with her aunt and uncle in the capital so that she could attend school. They were separated in the chaos. Injured and alone she found her way to a hospital. It was only a day later that her parents, who live in a distant rural area heard about the quake and rushed to the city.

With support from the hospital, UNICEF tracked down her uncle and then her parents. The family was reunited.

SOUNDBITE: Sindy Saint Cyr – 11-years-old
"They called my uncle and then took me to my parents. I was so happy to see them, I hugged them and they were so happy to see me again."

But others have not been so lucky, so UNICEF has been carrying out assessments at orphanages around the city, on the lookout for children who were orphaned or separated from their families.

While assessing this orphanage the team finds 12-year-old Rodrigue Cesar. He's one of the estimated thousands of newly orphaned children in Port Au Prince, he saw his family house crush both his parents.

SOUNDBITE: Rodrigue Cesar – 12 years old
"I was playing football outside with two of my friends and then I heard the earthquake and I felt the ground shaking, I ran back to my house and found it destroyed and my parents were dead."

SOUNDBITE: Caroline Bakker, UNICEF Regional Child Protection Specialist
"The earthquake has caused a lot of separation of children from their parents and what for us is important is that those children that have lost their parents, that we are gathering them, that we find them that we register them and that we are exhausting all the efforts we have to find their parents or their extended family and reunite those children back into their family. It's only when we have exhausted all the options we have that we will look into other forms of alternative care for those children and inter country adoptions or national adoptions are options or possibilities within the alternative care."

In the face tragedy, the joy of reuniting with parents and family is helping many Haitian children overcome their trauma. UNICEF will continue working with separated and orphaned children to ensure they all have that opportunity.

This is Guy Hubbard reporting for UNICEF Television. UNITE FO