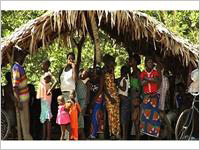 * UNICEF supports efforts to end violence against women in Ivory Coast
* 시간: 03 min 09 secs
* 촬영도시: Abidjan/Bouake
* 촬영국가: Ivory Coast
* 촬영일자: 11 Dec 2009

While the Ivory Coast is steadily working towards sustainable peace, many children continue to be victims of rape and other forms of gender-based violence. 25 percent of girls and women between 10 and 49 years have been victims of sexual violence at least once in their life-time. Between 2007 and 2008, the number of reported and assisted cases of such violence increased by 149 percent in UNICEF intervention areas.

SOT Laetitia Bazzi UNICEF Chief of Child Protection (English)
As a result of the political and social conflict, a cultural violence has developed, which is worsened by a weak implementation of the law. And here we have a 6 year-old girl, Marie, she was raped on her way to school. And this is just the tip of the iceberg.

SOT MARIE (*not her real name):
"I was five years old. I was with my girlfriend and we went to go eat at the canteen. Now I was on my way back home, and the man he caught me in the road. My friend left and the man said he would give me 100 francs to lay down. I laid down. He hit me. He said if I screamed he would kill me."

Marie's parents were fortunately aware of the life-saving steps to take when confronted with the rape of their daughter. The provision by UNICEF and partners of access to medical and psychosocial care through the development of referral pathways has improved.

SOT Madame Fadiga Côte d'Ivorie Ministry of Families and Social Affairs (French)
"After the victim has been seen by the doctor and the other structures, UNICEF and others, we go to the victim, to listen to her. Because listening to the victim. Let her speak - it is very, very important."

Community mobilization and sensitization campaigns urging individuals to speak out against sexual violence of all forms have increased the number of people reporting cases to authorities."

SOT Madame Fadiga Côte d'Ivorie Ministry of Families and Social Affairs (French)
"It is becoming less and less of a taboo and the victims themselves are no longer rejected and do not feel so alone anymore. It is talked about. And there are families even who go to the appropriate establishments, to denounce what has happened."

Despite the redeployment of the magistrates and lawyers in their working areas of origin completed earlier this year, Law enforcement is still weak and perpetrators of sexual violence and Female Genital Mutilation are too rarely denounced or taken to trial.

SOT Maarit Hirvonen UNICEF Representative to Côte d'Ivorie (English)
"There are a lot of difficul