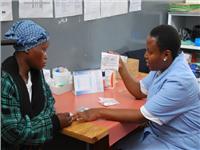 * UNICEF provides new way for women in Lesotho to receive ARV drugs
* 시간: 04 min 32 secs
* 촬영도시: Berea
* 촬영국가: Lesotho
* 촬영일자: 16 Mar 2010

Thursday morning is antenatal day at the Pilot health clinic in Berea District of Lesotho in Southern Africa. Malekena George is 32 weeks pregnant and has come for her first antenatal check up.

Following the local custom in this small mountainous kingdom, she has just moved from her husband's homestead back to her mother's house where she will stay until the baby is one month old. Like many women here, she has traveled a long way to the clinic and is only likely to come once during her pregnancy for a check up.

So in a country where almost one in four people is infected with HIV, this antenatal visit is critical.

After a check up, Malekena, like all other pregnant women in the country, goes for a rapid HIV test. The joy of her pregnancy is overshadowed by the reality that this twenty two year old mother to be is also HIV positive. The counselor explains that the outcome is not a death sentence but rather an opportunity to prevent her child from also becoming positive.

In 2007, in an effort to speed up the roll out of treatment and prevent more children being born positive, the Government of Lesotho with the help of UNICEF and other partners, introduced a minimum package of ARTs and antibiotics.

SOUNDBITE (English) Blandinah Motaung, UNICEF HIV and Maternal Health Expert
"A great percentage delivers at home. So the decision was let's take advantage of the first visit to ANC and provide women with a package of drugs for her and the baby. In case she delivers at home she will have that package. The drugs are provided in pill bags and you take this one before and during deliver."

Malekena listens carefully to the instructions on what medicine she needs to take when. Globally, around 1,400 infants are infected with HIV each day, during pregnancy, labor, delivery, and breastfeeding. But with the new regimen of treatment, the number of babies born HIV positive in Lesotho has dropped dramatically and for Malekena, the new treatment means hope. Hope that her baby will escape infection, hope that her baby will grow up healthy.

SOUNDBITE (Sotho) Malekena George, Mother-to-be
"The medicines are important because I am likely to deliver at home because of the distances. From home I walk to the point where I can get vehicles, I get one to tar road and then from the tar road I walk to the health centre."

To make sure the thousands of other mothers in need are reached, UNICEF in collaboration with WHO have designed a simple Mother to Baby pack that contains all the ARV and antibiotics needed to keep mother and child health