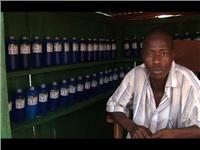 * Water purification program provides safe water to households in Guinea
* 시간: 03 min 12 secs
* 촬영도시: Conakry, Kindia, Kambaya, Mamou, Dabola
* 촬영국가: Guinea
* 촬영일자: 04 Mar 2010

March 22 is World Water Day. This year, the theme is clean water for a healthy world.

The quality of drinking water is a major concern in Guinea.

66% of the water used by the Guinean households for drinking is contaminated with bacteria. This leads to diarrheal disease, the second cause of deaths in children.

To improve the quality of water, UNICEF and its partners are supporting a household water treatment programme.

UNICEF supports the local production of chlorine.
The objective is to ensure that the purifying agent becomes part of the daily life of households to promote hygiene and a better health.

SOUNDBITE: Aboubacar Camara, NGO Tinkisso Co-ordinator (French)
"Chlorine can be used in several ways. It can be used to disinfect water, food, the dishes, and also for cleaning wounds, in health centers."

The programme was initiated as a response to a recurrent cholera outbreak, an acute diarrhoeal disease.

Thousands of bottles of chlorine have been sold, or given for free during the periods of high epidemic risk. And it yielded results.

In 2009, only 42 cases of cholera were notified with no deaths, in comparison to more that 8,500 in 2007.

A few months back, children in the village of Kambaya were regularly suffering from stomach aches.

But since the village started using chlorine, the children are healthier.

SOUNDBITE Sefanta Souare, Mother (French)
"When we didn't use chlorine, children use to have diarrheas, and belly aches as well, but since we started dropping it in the water, the diarrheas ceased."

To improve the health of children, UNICEF also supports school hygiene.

The teachers are trained to ensure that children adopt the good hygiene practices.

SOUNDBITE Mamadou Lamarana Diallo, Boubere School Principal (French)
"Water alone cannot clean your hands, you have to use a detergent like soap."

This education program is instrumental.

Hand washing with soap is a cheap and highly efficient way to prevent child killer diseases such as diarrhea and pneumonia, two of the main causes of child deaths in Guinea.

Educating children is an efficient way to spread the message beyond the school.

SOUNDBITE Mamadou Oury Bah, UNICEF Head of Zone Office Guinea (French)
"A child who learns about good hygiene practices early, adopts them easily, and it also means that in the future we won't need to invest in changin