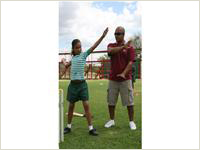 * UNICEF launches Kwata cricket with international cricket star Paul Adams
* 시간: 02 min 50 secs
* 촬영도시: Windhoek
* 촬영국가: Namibia
* 촬영일자: 11 Mar 2010

UNICEF Goodwill Ambassador and South African cricketer Paul Adams was in Windhoek Namibia this March for the launch of Kwata Cricket. A UNICEF and Cricket Namibia partnership, the initiative works on the premise that sport and play are vital elements in the health and well-being of children and young people.

SOUNDBITE (English) Paul Adams, UNICEF Goodwill Ambassador
"Sport is big in developmental stages in a youngster's stage of their life. They learn the coordination and I think that plays a role in developing the brain of a young kid to be a healthy adult. And if you instil that sort of passion, of doing sport at a young age, when they grow up as adults they'll have that passion and they'll be living healthy lifestyles. And they'll create that circle with their kids, as they go on with life."

For Kwata Cricket's official launch, hundreds of learners gathered at the Wanderers Sport Club in Windhoek to show their cricket talents, and join what is part of a UNICEF global initiative.

SOUNDBITE (English) Ian MacLeod UNICEF Representative,
"UNICEF and UNAIDS have an agreement with the International Cricket Counsel, globally, which pulls together the cricket playing countries and top cricketers in the world to promote healthy lifestyle, but really with a focus on HIV prevention. And what we've done is taken that global agreement and brought it to Namibia, and expanded it through the Kwata Cricket programme."

Kwata means "catch" in several indigenous Namibian languages, and the initiative uses the slogan "catch your dreams."

In a country with extreme poverty, this means creating opportunities for children through cricket. At the same time, the future of Cricket in Namibia rests on these children.

SOUNDBITE (English) Laurie Pieters, CEO, Cricket Namibia
"For us, to build a future for cricket in this country, we have to have a broad base. So we are looking at extending this programme to 10,000 or maybe more in our 5 year and 10 year development programmes, and we just think it is a great sport, it's a great sport for discipline, for team building, a team sport, and it builds great characters."

Every week Kwata Cricket coaches over 3 000, third and fourth grade students in 15 schools.

The initiative is inclusive across race and gender lines, and brings together children from all socioeconomic backgrounds. And a particular effort is made to get girls involved.

SOUNDBITE (English) Ian MacLeod, UNICEF Representative
"There already is a structure in pl