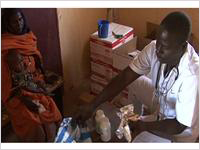 * UNICEF supports therapeutic feeding centres in western Chad
* 시간: 03 min 27 secs
* 촬영도시: Mao
* 촬영국가: Chad
* 촬영일자: 13 Mar 2010

It's a long hot journey through the desert to get to the nearest market for villagers Chad's north western Kanem region.

Changing weather patterns here have led to severe droughts crippling local agricultural and causing chronic food shortages, according to local assessments.

The 2009 harvest was a disaster – yielding only enough grain to feed the region for two weeks.

Severe food shortages combined with unbalanced diets and poor child care practices have led to soaring malnutrition rates in Kanem.

Adam Abdulai, just over a year old, was in a critical condition when he was brought to this UNICEF supported therapeutic feeding centre in the district of Mao. Here he's receiving emergency care and is fed milk every 3 hours while being closely watched by health workers. His mother spoke of eating just porridge made from millet everyday during her pregnancy, leaving her weak after the birth and unable to care for her son properly.

Adam's mother and grandmother stay with him at the feeding centre day and night.

SOUNDBITE (Kanembou) Hawa Abdulai, Adam's Grandmother
"For the last 10 years all of our hard work in our fields has produced nothing because there has been little rain, so we have to buy maize from the market."

There are more than a dozen children admitted at this centre where emergency therapeutic feeding takes place every day.

SOUNDBITE (French) Dr Mekonyo Kolmain Gedeon, Head of Health Services for Mao district
"The severely malnourished children with secondary infections are referred to this centre. Those that don't respond to treatment are also referred to this centre. If this centre did not exist the situation would be catastrophic for the district health of Mao."

Over 8000 children have been treated at these centres since 2009, but the needs are still huge.

SOUNDBITE (English) Dr Marzio Babille, UNICEF Chad Representative
"The unprecedented impact of lack of rainfalls has accelerated vulnerability and malnutrition rates,"

Tackling malnutrition in remote areas is key here. In the village of Barrah, 20 kilometres from Mao, a UNICEF supported clinic provides monitoring and treatment for severely malnourished children.

There's been a 70 percent increase in the number of children brought into centre like this in the northwestern region.

Zara Hassan's comes here every week with her malnourished 2 year old to receive supplies of plumpy nut, a high protein, high energy peanut paste fortified with vitamins and minerals. The child is