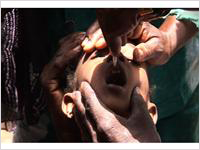 * UNICEF: Polio once more on the rise in Guinea
* 시간: 03 min 06 secs
* 촬영도시: Conakry
* 촬영국가: Guinea
* 촬영일자: 09 Mar 2010

Soumah is a Fisherman in a small harbor in a poor neighborhood of Conakry, in Guinea.

He's a widow and he lives alone with his 5 year-old daughter Yeninka. She was healthy until a few months ago.

SOUNDBITE Soumah Naby, Fisherman (French)
"She use to walk normally, she would go with her older sister there and the neighbors to fetch water, she use to do everything, and out of the blue, the disease stroke us."

Today, Yeninka is almost completely paralyzed. The little girl is a victim of polio, a highly infectious disease thought to have been eradicated in Guinea. Vaccination is the only way to prevent the disease. Unfortunately, Yeninka wasn't vaccinated against polio.

SOUNDBITE Dr. Ibrahima Founyuya Diallo, UNICEF Child Protection Expert (French)
"The poorest areas, the most destitute have sometimes difficulties to access vaccination services and parents have no access to information. They don't have TV and have no information on routine vaccinations."

The recent political turmoil in the country took a heavy toll on children's health. The crisis weakened the whole health system.

SOUNDBITE Dr. Camille Tafsir Soumah, of the Vaccination Program National Coordinator (French)
"Because the country went through a period of insufficiencies and instability, the health system was not funded adequately,. This led to insufficiencies in the routine immunization system."

In 2009, Guinea has notified 42 polio cases. To stop the epidemic, UNICEF, the World Health Organization, Rotary International and the government embarked on a national outbreak response in Guinea as well as in 18 other West and Central African countries also affected or at risk.

A series of national days of immunization against polio are organized simultaneously in each of those countries to vaccinate every child under 5.

In the field, the volunteers and health agents mobilized for the campaign by the ministry of health, with the support of UNICEF and other partners, are going door to door in a massive effort to reach every child with two drops of oral polio vaccine.

Rather than waiting for children in health centers, health agents are visiting every dwelling, going door to door, to leave no child unvaccinated.

Once the children of the household are vaccinated, the agents mark the house with chalk. 400 000 volunteers are hard at work in all the cities and villages in the 19 west and central African countries participating in the campaign.

Their objective is to immunize more than 85 million children under