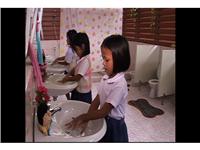 * UNICEF: Renewed support for WASH in Schools
* 시간: 02 min 05 secs
* 촬영일자: 19 Mar 2010

Healthy school environments are essential for safe guarding the lives of children Access to clean water, soap and hygiene instruction protects girls and boys against diseases and encourages them to go to school.

For 5 year old Yupa the facilities at her preschool are very child friendly The washstands and latrines are child sized and the children are taught good hand washing skills.

Her school is close to a safe water supply and soap is dispensed.

It's initiatives like this that are at the centre of a new global campaign is to be launched on April 5th at Dubai International Humanitarian Aid Conference.

It is called WASH in Schools.

SOUNDBITE Therese Dooley, UNICEF Senior Adviser Sanitation and Hygiene (English)
"We need to enhance investment on WASH in Schools. Currently investment can be quite low and sometimes WASH in Schools falls between the cracks. Is it the responsibility if the ministry of Education or the Ministry of Water of the Ministry of Health do we just need to make sure there is funding allocated and that it does get priority from WASH in Schools."

WASH promotes self-respect and encourages children to take pride in their schools and their homes.

In this school in Krabi province, Thailand, Latif and Ciuti help clean and participate in soap making projects.

SOUNDBITE: Varee Ginglek, Father (Thai)
"When they come home they first wash their hands and their feet which they have learnt from their teachers"

Children enjoy being helpful their communities.

WASH has also proven to boost attendance of girls in schools.

SOUNDBITE: Shamim Azam, Society for Sustainable Development (English)
"We train the teachers on school sanitation and hygiene education. Then teachers share this knowledge with the students. And they take this knowledge to their homes."

The upcoming conference is an urgent call to increase attention and support for WASH in Schools for all children worldwide.