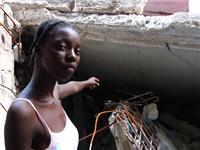 * UNICEF: Young Haitian earthquake survivor wants to help others
* 시간: 02 min 11 secs
* 촬영도시: Port-au-Prince
* 촬영국가: Haiti
* 촬영일자: 03 Mar 2010

When the earth began to shake on January 12th, Rachel Lunique, 17, sprinted out the door of her family's second-story apartment. Rachel was just a few steps from the safety of the street, when she heard the desperate cries of the woman in the apartment next to hers. Instinctively, Rachel turned and ran back into the building, knowing the woman and her infant child needed help. Seconds later, a concrete wall collapsed on Rachel, knocking her unconscious and pinning her right arm beneath hundreds of pounds of concrete.

"I was trapped there for two days," she says, pointing to an improbably tiny space enveloped by twisted steel support rods and broken concrete blocks. "I started to pray, and after I prayed, I cried. And I knew God was going to take me out of there."

It would be 48 hours before another neighbour—a tall, thin man named Lucas Wilson—would hear Rachel's muffled cries. Using nothing but his hands and a hammer, Wilson painstakingly broke through the rubble, dug a tunnel, and freed Rachel. He would free three other neighbours in the same fashion.

As Rachel tells her story, Wilson walks to her side and stands atop the rubble of what was once her family home. Six weeks after the earthquake, he still wears an intense look of shock and determination. In his hands, Wilson carries a battered aluminium hammer and a rusty saw, in the unlikely event that he finds someone still alive, in need of rescue.

When asked about the fate of Rachel's neighbour, the woman who cried for help, Wilson pauses and points to a bare human skull lying deep in the crevasse of two fallen walls. She died cradling her infant child.

Today, Rachel is living in a small, makeshift tent in Camp de la Paix. The walls are made of old bed sheets and a tablecloth, with a plastic sheet stretched across the roof to keep out the rain. She shares the space with her family, none of whom were injured in the quake. A plastic bucket for water and a small pile of clothes are Rachel's only belongings.

"There are seven of us living in this tent," she says. "It's very difficult because when the rain comes, we get wet. And when the sun is up, it is very hot inside. And it is difficult for us to find food."

She still wears a bandage on her injured hand, and has not regained mobility.

"One thing I can do is gather water every day," Rachel says, demonstrating how she can carry a bucket with her good hand.
"I don't have many regular activities because of my crushed hand."

She spends most of her