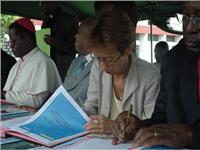 * UNICEF teams up with religious groups to cut child mortality in DR Congo
* 시간: 02 min 34 secs
* 촬영도시: Kinshasa, DR Congo
* 촬영국가: Congo
* 촬영일자: 17 Mar 2010

One child out of seven dies in the Democratic Republic of Congo before the age of five. This is mainly due to measles, malaria, acute respiratory infections and malnutrition. Most deaths occur at home or before the patient reaches a health centre, sometimes minutes after getting there. Traditionally some believe that the illnesses result from evil spells cast by members of their community and not necessarily by illness. To hasten the reduction of infant mortality in the country, UNICEF in collaboration with the Ministry of Health signed an agreement with the five major faith based organizations on 17th of March 2010.
The agreement is part of efforts to implement the African Strategy for Child Survival and Development which is an initiative to improve the chances of survival for African children. Together these five religious groups have the potential to reach more than half of the estimated 65 million people in this country.
SOUNDBITE (English) Pierrette Vu Thi, UNICEF Representative in DR Congo
"The religious groups in a country like DRC which is so vast have an outreach that neither we nor the government nor anyone else has, because they have the networks in place to reach very isolated communities and this is the goal of the partnership."
The religious groups will use their nationwide channels and networks to promote five key family practices within households.
These are: exclusive breastfeeding for the first six months, complete vaccination of pregnant women and children before they attain the age of twelve months, hand washing with clean water and soap, correct treatment of diarrhea as well as regular and correct use of insecticide treated bednets.
At the signing ceremony religious groups, UNICEF and the Ministry of Health all affirmed that the high rates of deaths among children can be avoided for the most part if households and families adopt these simple practices
SOUNDBITE (French) Reverend Kankienza, Charismatic Church National Representative
"This partnership is an opportunity for us. We cannot remain indifferent to what affects our people."
This innovative partnership between UNICEF and the religious groups is to help Congolese children attain a sound mind and a sound body.