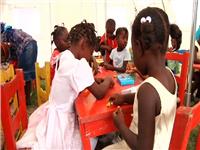 * Haiti Early Childhood Development Kits
* 시간: 02 min 53 secs
* 촬영도시: Jacmel, Haiti
* 촬영국가: Haiti
* 촬영일자: 28 Feb 2010

When the earthquake shook the mountains outside Jacmel, Haiti, countless schools were destroyed or damaged. Not only were classes cancelled, parents were afraid to send their children back into classrooms with any structural damage.

One preschool that was damaged is run by the Lauritas Religious Order. It serves 250 young children, who suddenly found themselves without a functioning classroom or covered play area. UNICEF has stepped in and delivered three large tents, as well as 20 early childhood development kits.

UNICEF launched the ECD kits last summer for children under the age of six living in emergency or post-crisis environments whether it be a tsunami, an armed conflict, or an earthquake.

Each kit contains 37 items designed to promote social interaction, not only between children, but also with their caregivers. Among the items are hand puppets, puzzle blocks, memory games and colouring pencils.

UNICEF's Arnaud Conchon says the goal is to help children return to normal activities as soon as possible.

"What is amazing is that the children are walking everyday eight kilometers in the morning," Conchon says. "They wake up at 4 a.m. to come here and they go back in the afternoon with their parents. So they are really, really willing to have access to play and to learn and to be part of these activities -- this interactive activities."

Stephanie Saint-Fleur and her five children escaped their house just moments before it collapsed in the earthquake.

Today she walked an hour with her children to get here, carrying her young daughter, whose legs are paralyzed.

She says, "We are so happy to receive these toys and materials. And the tents make us feel secure, because we are scared to return to our damaged houses, and we don't want to send our kids into damaged classrooms... so the tents are a haven."

UNICEF is encouraging communities like this one to develop their own ECD materials. This sustainable approach gives children access to stimulation, early learning and group play, without making the community dependent on external aid.

Conchon says, "We are establishing a model here. For the first time, UNICEF is coming in these place after the earthquake. I can see the enthusiasm of the community here and really, we hope that we can establish a good model that we're going to replicate and scale up in other places, especially in these rural areas that are somehow forgotten."

With more than a million children directly affected by the earthquake, the kits and tents are a quick and ef