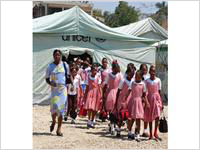 * UNICEF: Three months after earthquake, schools open in Haiti
* 시간: 02 min 26 secs
* 촬영도시: Port-au-Prince
* 촬영국가: Haiti
* 촬영일자: 06 Apr 2010

A new beginning for the children of Haiti.They're returning to the classroom nearly three months after the earthquake that decimated their country.

Here in Port-au-Prince, more than 1,000 students turned up for the re-opening of L'Institution Sacre-Coeur. The classrooms were destroyed, so the Haitian Ministry of Education, along with support of UNICEF and its partners, have installed about a dozen tent classrooms, along with latrines and a clean-water station.

Twelve-year-old Gaille Lexis lost her home in the earthquake, and is currently living in a makeshift wooden hut with her family. For months, she's been waiting for this day to arrive.

SOUNDBITE (Haitian Creole), Gaelle Lexis, 12 years old: "I'm excited to be back at school, so I can play, talk to my friends, and tell them about my little problems. This is what I like."

The day's event included strong words from Haiti's minister of education, Joel Desrosiers Jean-Pierre.

SOUNDBITE (French), Joel Desrosiers Jean-Pierre, Haitian Minister of Education: "We have to go back to school. It's our only chance to succeed after the January 12th earthquake. So, dear children, i invite you to take up your school activities once again."

UNICEF's Representative in Haiti, Francoise Gruloos-Ackermans, was also on hand. She said the opening of the school was an important first step, and that UNICEF hopes that more places of learning will re-open and that more children will reclaim their right to an education.

SOUNDBITE (English) Francoise Gruloos-Ackermans, UNICEF Acting Representative in Haiti:
"This is not just a significant step in terms of education i believe that the return to school offers a beacon of hope for the city's children, after so many months of confusion, sadness and uncertainty. We know that Haitian parents and children value education above nearly all other services. If there's one country in the world that values education, it's Haiti."

Across the country, UNICEF is distributing 3,000 tents, as part of its effort to help return more than 700,000 students to schools over the next two months. Other UNICEF assistance is coming in the form of education and recreation materials, as well as school furniture.

As the country moves forward, it is critical that education is a key priority. Nothing less than the future of Haiti is at stake.